One of the greatest benefits to our RV fulltiming lifestyle is (usually) no set schedules. When we don't have any commitment's, we can go where we want, when we want, and stay as long as want. We try to limit our commitments to work assignments (got to pay for this somehow). Because we've elected this freedom, we rarely make reservations for an RV site or campground. So how do we know where we're going to stay?
Of course, when we have a specific destination in mind, like a national park, we'll be staying there. But it's the route between destinations that we usually wait until the afternoon to determine where we'll stay. Our goal is to average less than $10 a night for RV parking. When moving around, we'll normally stay at a free campground, Escapee park, Elks club RV parking, Military family campground, Passport America member park, local, state or federal campground, or boondock on state or federal property. We've found most full commercial RV parks are too expensive for us. We've also been known to park overnight at a truck stop or casino, and would park at a Walmart overnight. But these are our last choice, mainly due to nearby traffic noise. Once and awhile, we'll also splurge for a commercial RV park, mainly for the hot-tub. The most valuable tool we use to help find a campground or RV park is our laptop computer and mapping program. Bob Cook maintains numerous overlay files for Delorme's Street Atlas and Microsoft's Street Atlas mapping programs. These overlays load into the mapping program and show approximately where numerous campgrounds are located. Overlay files are available for many types of campgrounds, membership parks, dump station locations, Walmarts, and much, much more. More information and the overlay files can be found at the Discovery Owners Association web site. The picture below is from Street Atlas, showing the locations of Escapee parks, Elks clubs, Military camps, Passport America member parks, and free camping locations. I've assigned a different emblem for each type of site.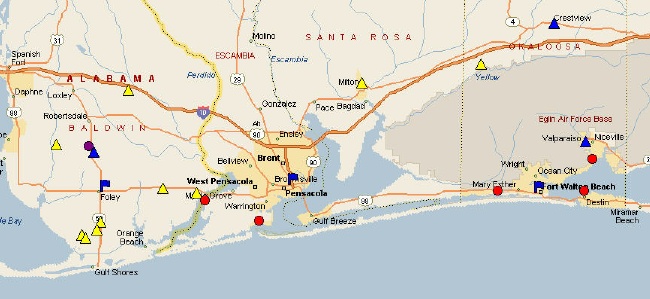 We only load in the overlay files we're interested in. I could load in other types of maps, if needed. We can see at a glance what campgrounds are ahead of us, or near our route. Once we locate potential campgrounds, we'll cross reference the site to the appropriate book. Sometimes we need to eliminate a potential site, because our motorhome is too large, or for other reasons. If we have doubt about the availability and the park is a little out of the way, we will call to insure they have room for us. Normally, we don't call and know we're taking a bit of a chance. In over 3 years of traveling, we have yet to have problems finding a spot to stay. Many times, we've been delighted to find a wonderful location for under $10 a night.
(2008 update: We recently purchased a Garmin Nuvi GPS and replaced the traveling laptop. While the Garmin GPS has it's advantages, we miss looking at the above overlay map to find where to stay. We need to work out a new process. Perhaps load up the laptop and above map when we start looking for aplace to stay, but use the GPS for normal driving.)