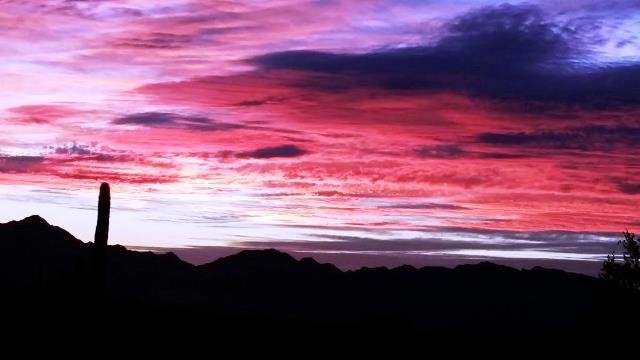 After enjoying a New Year's Eve party in Yuma, and finishing up with dental work, we departed the Yuma Army Proving Grounds on January 11th. Our next stop was only 90 miles away. One of those much talked about RV events/destinations is Quartzsite, AZ. This small desert town near the Arizona/California border on I-10 comes to life each winter. Normally, there's only a population of about 500 residents. However, this number grows to over 10,000 by late January. This is because of the large influx of RV's spending time here in the winter. This town hosts numerous "shows" during the winter. In addition to music festivals and car shows, the two main events are the Mineral/Gem show and a RV show. The peak of the season is usually the last two weeks of January.
Quartzsite in the winter has been described as "Woodstock for the geriatric crowd". RV'ers flock to the area and either stay affordably in one of the many RV parks or boondock on BLM land. The BLM has numerous "short-term visitor areas" available for a 14-day stay at no charge. Or you can utilize a "long-term visitor area" (LTVA) for $180 for up to a 7-month stay ($40 for 14 days). In Quartzsite, staying in a long-term area gives you a place to camp and access to a dump station and potable water. Staying in a short-term area only gives you a place to camp in the desert.
In Quartzsite, you'll see every type of RV available. In our area alone, we have a VW bus all the way to a Prevost motor home. Many RV'ers have made boondocking in the desert a science. Some go to extremes to conserve water and waste. Many have numerous solar panels and some use wind generators. Many people drive all-terrain vehicles everywhere, but they're not required. There's plenty of gravel and dirt roads going in every direction.
When we visit Quartzsite, we stay with friends who are members of the "Boomers" group, which is part of the Escapee RV Club. This group has nothing to do with age (Baby Boomers), rather it's more about having a young and adventurous attitude. This informal social group gathers for two weeks and has TONS of free activities. This year, there have been nightly slide shows shown on the side of a RV, potlucks, a chili cook-off, Karaoke with dancing in the desert night, game nights, craft talks, free pancake breakfasts, 4WD runs, hikes, Zumba and Yoga classes, wine tasting, and much more. There's been discussion groups on Smart phones, RV batteries, solar panels, geocaching, RV'ing in Scotland, RV'ing in Europe, solar ovens, photography, and many other topics. This doesn't even include all of the events going on in town.
There was even an auction, raising money for the Escapees RV Club CARE (an adult day care center). Connie and I, along with Bill and Gisela Pollock, Mark and Judy St. Croix, and Frank and Diane Gruille bid together for a Murder Mystery Night. Friends Chuck and Jan Moore with Duane Payton and Betty Anderson hosted a wonderful evening of Wine, cheese, chocolates, and a murder mystery. It was a great evening and we all had fun. Who would ever guess this is happening in the middle of nowhere? Connie even correctly identified the murderer!
If you ever have the chance to visit Quartzsite in late January, I highly recommend you try it. You're welcome to stay and participate with our group. Guests are most welcome and are made to feel as part of the group.
The weather was great this year, averaging sunny days in the low 70's. We did have some slight winds at times and a day of rain. Unfortunately, our stay at Quartzsite wasn't all fun in the sun. To help maximize the electricity generated by the sun with our solar panels, it's a normal practice to tilt the panels towards the sun in the winter. I can almost double the amperage being charged with the panels tilted. However, while climbing the ladder, the ladder fell out from underneath me causing me to fall to the rocky desert floor. It wasn't a pretty sight. Connie rushed me to the hospital for CT scans, which came back fine, even though I was having severe rib and back pain. A few days later, we rushed again to the medical office. This time, the X-Rays revealed a broken rib. Bottom line, it was very painful at times. It's been over two weeks now and I can finally lay down. The pain is intermittent, but greatly reduced.
We left Quartzsite yesterday and moved another couple hundred miles west to Joshua Tree, CA. We found a wonderful boondocking location near the Cottonwood Visitors Center. We'll explore Joshua Tree National Monument and go soak in some nearby natural hot mineral baths. We plan to be here for a week or so. Then it's on to nearby Borrego Springs (Anza Borrego).
Since we're heading to Alaska this summer, people ask us when we are going. I tell them we're already on our way - just very slowly. We should be in Canada sometime in about 4 months.