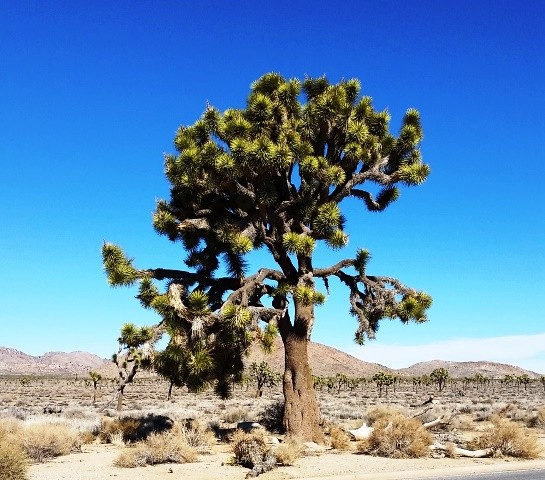 We've had a very relaxing week. After leaving Quartzsite, AZ, we moved a few hours West to Joshua Tree National Park. Instead of camping in the park, we stayed on BLM land just outside of the South entrance to the park. There's a free 14-day stay limit there. But we soon realized almost all of the "interesting" things to see in Joshua Tree NP is near the West or North entrances. This is over an hours drive from where we were at. So we relaxed and toured the local area.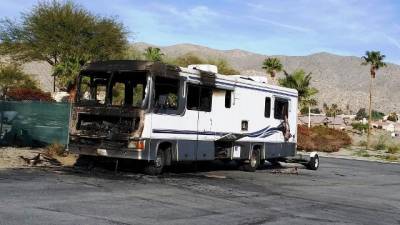 One day, we spent the day at the Desert Hot Springs Spa. For $3 a person (on Tuesdays), you can spend the entire day lounging around and soaking in the 7 natural hot mineral pools they have. We elected to get a "day room" for $40. This was a hotel room for ourselves, but only for the day. This allowed us to take long hot showers, have some privacy, and stull enjoy the mineral pools all day. VERY relaxing. The excitement for the day was an motor home in the parking lot caught on fire. You should have seen everyone jump up with their car keys. However, the motor home was on the edge of the parking lot away from all of the cars. We never found out what caused the fire.
During the week, Connie spent a day helping friend Silvana celebrate her 50th birthday. Customary for these friends, they enjoyed the day casino hopping in nearby Indio. Larry stayed home, enjoying a quiet day reading. We also scouted out the National Park, checked out some campgrounds (not for large rigs) and took a short walk in the "Cholla Cactus Garden".

After a week in this location, we moved to the North end of Joshua Tree National Park and boondocked (dry-camped) on BLM land outside the town of Joshua Tree. Not a very pretty location. but it's close to the best of National Park. Yesterday, we took an 18-mile "geological driving tour" with the park and took a few other scenic back roads. Today, we hiked about a 4 mile round trip to the "Wall Street Mill" then to the "Barker Dam". It was fun and interesting to see how miners and ranchers attempted to make a living here.
 Joshua Tree National Park is an interesting park, in it's own way. There's plenty of hiking trails and a few 4WD trails. Surprisingly, over half of the park (the southern half) doesn't have Joshua Trees. You'll find a small patch of Octillo cactus, and large patch of Cholla cactus. But the Joshua Trees are all in the Northern and Western half of the park. A Joshua Tree looks like a tree with cactus tips.
Tomorrow, friends Silvana and Allan are coming over to visit and have lunch. They're spending the winter at Big Bear Lake and need to come down and thaw out. It looks like we'll be moving in a couple days to Borego Springs (Anza Borego).