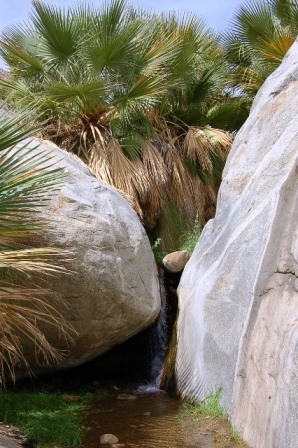 While staying at Borrego Springs, we tried to do some exploring. We took a day's off-road trip through MANY trails. The scenery was unique and interesting, but eventually we got tired of the bouncing around. Another day found us hiking from the Anza Borrego State Park visitors center to Palm Canyon. This was about a 5 mile hike.
It was pleasant hiking up to the canyon on a relatively easy trail. At the end was an oasis with springs, a water fall, and numerous palm trees (hence the name). We decided to try an alternative trail for the return trip. Oops! Although this was a designated trail and started off marked, we soon found the trail wasn't so obvious. We knew we had got off the trail somewhere and decided we better not chance it. We could see the primary trail from up where we were at, so we "bushwacked" down a ravine to intersect the main trail. All was well again. Near the end of the trail, we some a Mountain Sheep Ram. But couldn't get the camera out fast enough before he was out of sight.
After leaving Borrego Springs, we headed to the Joint Base Los Alamitos Army Campground. This is near Long Beach, CA. This small RV Park isn't much to speak of. A dirt lot behind temporary quarters with 12 RV hook-ups. While it did the job of giving us a place to stay with hook-ups, it's sure nothing pretty to look at. Luckily, we only stayed there for 4 days and moved over to nearby Seabreeze RV Park. This RV Park is located on the Naval Weapons Station Seal Beach. While a little more expensive, it's much more pleasant to look at. They even have free laundry and free movies on base (which we took advantage of)
This past month at Seal Beach has gone by quickly! We've been visiting with Connie's parents and brother, who live nearby. We've done a fair amount of shopping and some other errands. Connie's had time to spend with her mother attending various socials, going to a movie, and more shopping with another childhood friend. We also had dinner with friends we met at a campground over 8 years ago. The Stevens wanted me to "show-off" the drone, so we had fun flying around in their backyard.
My main mission for this past month was to develop my "eHost" campground management software. This is software I'm providing for California Land Management, whom we've worked with for the past 8 summers. Mission accomplished! Over 10,000 customized files were developed to be used by camp hosts in 109 campgrounds this summer. To say the least, this project took up most of our time this past month.