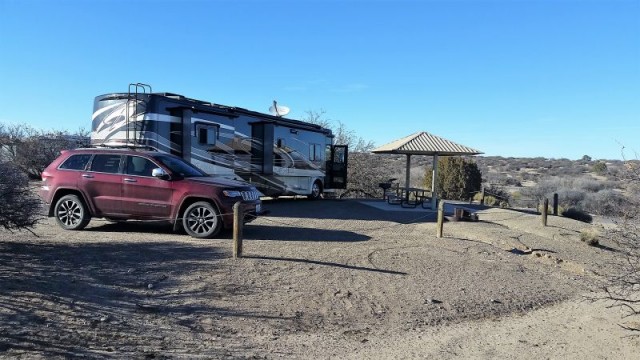 We've been fairly busy here at Elephant Butte State Park near Truth or Consequences in New Mexico. We got a nice site looking out over the lake, in the distance. There's plenty of "dry-camping" available, either in a developed site or just out in the desert. Some people are even camping out on long sandy points, just a few feet from the water. When we got here a couple weeks ago, it was getting down below freezing at night, so we decided to pay the $4 a night (with the annual pass) and get an electric site. But lately, the weather has been great!
Here's a 360° photo of our site #18 in the Quail Run Campground: 
Friends had recommended the Geronimo Springs Museum in the town of Truth or Consequences. It was only a few miles away, so we stopped by for a visit. For a small town museum, it was packed full of displays and information. The emphasis was mostly on local history and artifacts, but it was very well done and interesting.
Truth or Consequences is also home of Spaceport America. They want $65 per person to take a tour, but there is a small visitors center for the Spaceport in town. What a great disappointment! The Spaceport America visitors center had nothing put a couple learning displays. Almost ZERO photos or information on the Spaceport.  <continued>