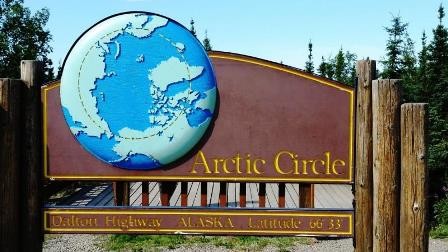 While we enjoyed our free camp site at Peterson Lake, it was time to move on. We headed back to Anchorage for a couple nights (July 13th - 14th). We stayed in the Sam's Club parking lot, allowing us to restock on groceries and do laundry. On our last night we enjoyed another Boomer get together. 12 of us met at a restaurant close by for more travel story swapping. Refueled and ready to continue on, we headed further north towards Fairbanks. We drove through the devastation left by the recent "Willow" fire. Many remote houses were burnt down. A little down the road, we stopped for lunch in Wasilla and took time to visit the Iditarod Dog Sled Race headquarters. They had a small display and some movies on the dogs. "Mushing" is a huge sport and mode of transportation in Alaska. They had a dog team hitched to an ATV. Connie took a quick ride around, being pulled by these very energetic dogs.
After lunch, we continued on and pulled off near Talkeetna for the night. We found a nice, quiet pull off to spend the night at (July 15th, 62.2982, -150.0837). We walked around this small and remote town. Besides being very much a tourist town, it's other main purpose is to provide services to the many remote homes in the area. Many without electric or water. Since we normally don't like to drive for more than a few hours (besides, we're not in a hurry), we stopped again for the night (July 16th) after only going 90 miles at the East Fork Chulitna Wayside (631504, -149.4129), which had a great and free campground. We were just south of Denali, which we'll return to in a couple weeks.
On July 17th, we finally arrived in Fairbanks. We decided to stay at the Sam's Club parking lot (64.854086, -147.708937). During the 5 nights we stayed here (July 17th - 22nd), we visited the nearby town of North Pole and the Santa Claus store. Connie may have liked looking around, but I wasn't impressed. A couple days later, we stopped at the Pioneer Park Village, but all of the stores were closed in the morning. We then headed to the University of Alaska Faribanks Museum. We had heard it was pretty good, and we had a 2-for-1 coupon from our "Toursaver" book. The museum was small, but full of a variety of displays. The art displays were okay, but I enjoyed the natural and historical section the most. Lots of information on dinosaur remains in Alaska, as well as information on the early settlers and the original tribes. They had displays on a wide variety of subjects. We especially liked the huge Grizzly Bear, and I liked the display on WWII battles in the Aleutian Islands. This is a part of WWII history not many people know about. Japan attacked, and occupied part of Alaska for awhile. Some Alaskan citizens (not military) were taken prisoner.
(Continue reading for more of the log and photos)