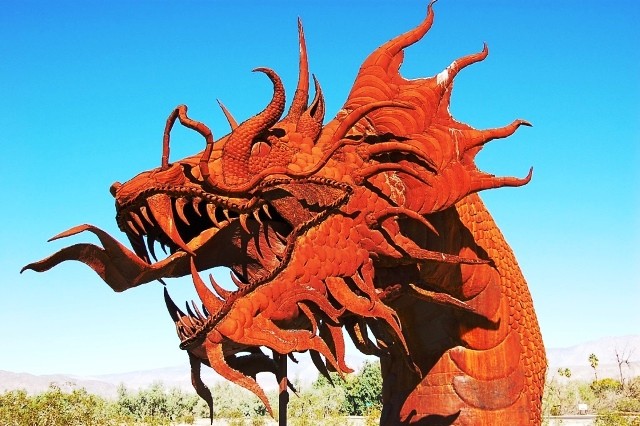 After leaving Joshua Tree National Park, we headed over to Borrego Springs, CA. This small town is surrounded by the Anza Borrego California State Park. Friends were recently here and told us about the Sculptures of Ricardo Breceda scattered around the Galleta Meadows estate. These large sculptures are made of shaped metal welded together and are huge. They're mainly based on renditions from the book "Fossil Treasures of the Anza-Borrego Desert". There's also statues of noted humans and prehistoric creatures. It all started in 2008, with this mythological dragon added in 2011.
You can watch a slide-show of our photos of ALL 30+ of these amazing sculptures in our Photo Gallery. To wet your appetite, here's a small sampling:
For the past week, we've been exploring the area and the statues. We did a short "nature walk" and was recently visited by Larry's brother, Kenny and Mary Farquhar. They recently got a motor home and spent a couple days with us. Larry also decided to get involved with Radio Control "Quadcopters". Especially a 3DR Iris+, which can be an autonomous "Unmanned Arial Vehicle" (UAV), also known as a "Drone". I don't yet have the camera hanging off the bottom, but that will be added soon. It's a TON of FUN! (Only 1 crash, so far.)
We're boondocking on BLM land near the town of Borrego Springs. We'll be here for a couple more weeks and will visit friends again and do some hiking. It's sunny and warm. The solar panels are doing great!