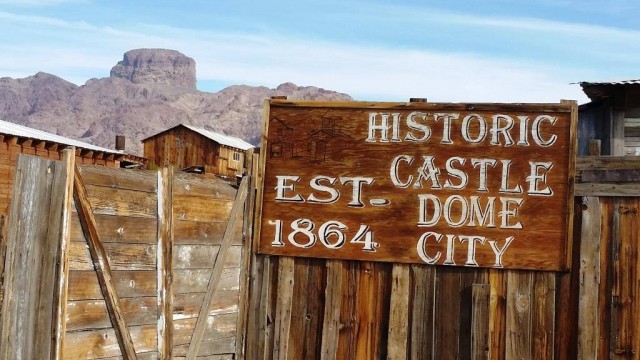 Connie spends hours on Facebook and keeps her posting's there current. I was hoping she would also start using our own "Blog", but it looks like a lost cause. So it's up to me to "try" and keep this blog current.
For the past few months, we've been having fun. Let's see if I can remember all that we've been doing:
October: After leaving our summer jobs, we headed to Casa Grande for Connie's Grandma Cappie's memorial. Originally, this trip was scheduled to be for Cappie's 100th birthday, but she passed away a month shy. Connie's entire family was there. The last time they were all together was 25 years ago.
We originally planned to dry-camp at the Casa Grande Elks Lodge at $10 a night. I made a "donation" of $60 for a 6-night stay. However, the weather was still in the high 90 degrees and we learned of an RV Park nearby that was only $17 a night (with full hook-ups). After one night in the heat and hearing the trains all night, we moved to the RV Park and enjoyed air conditioning, the pools, and some activities. It was worth loosing the $50 at the Elks Club.
The memorial service was simple, with Connie's Grandmother and Grandfather's ashes being spread around a Saquaro cactus in Picacho Peak State Park. A few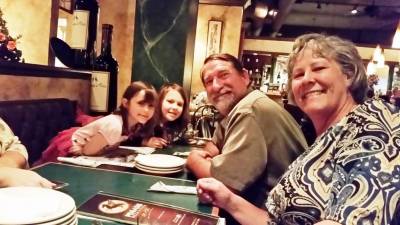 days after the service, we moved the motor home north to a regional park we always enjoy, Usery Regional Park in Mesa. Larry had a couple of doctor appointments so it was convenient being in that area.
November: The first part of November we moved back down to Casa Grande and put the RV into storage for a week and flew to Seattle, WA. Cynthia, our youngest daughter joined us to visit our eldest daughter, Leslie, and her family. It's not often we get to visit with Leslie, Andy, and grand-daughters Kaylee and Khloe. We enjoyed a weeks visit with them and helped celebrate Khloe's 6th birthday. We'll see them again in May on our way to Alaska.
We returned to Casa Grande and got the motor home out of storage and spent another week just relaxing. Then it was off to the Elks lodge in Vista, CA (near Escondido). Connie's parents and brother were spending Thanksgiving week at the "Lawrence Welk Resort". Connie and I went golfing for the first time with them. Well, at least we were hitting a ball around the grounds. We had a fun week and enjoyed a traditional Thanksgiving family dinner.
December: At the very end of November, we left Vista, CA and headed to Yuma AZ. We always enjoy boondocking at Mittry Lake and spent one night there. We drove over to the nearby Army Yuma Proving Grounds to see if they had an available space in the Travel Camp. We've tried to get in there numerous times before, but they were always full with "winter snowbirds". This year, we got lucky and got into the RV Park. Probably because it was still a little early in the season. A pretty good deal for a FHU site at $375 a month. We paid for 6 weeks.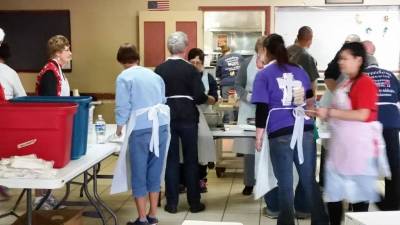 We primarily came to the Yuma area to have dental work done in Mexico. It's about 1/3 the cost of a US dentist. You can read our article on "Dental Care in Mexico" here. Connie also wanted new vision glasses, which are over 50% less in Mexico. A side benefit of being in Yuma are RV friends. Many of our friends stay in the Yuma area for the winter. We've been busy visiting them for holiday parades, going to the movies, eating out, shopping, etc. While here, Connie and I also volunteered and delivered "meals on wheels" for the Crossroads Mission for a few days.
Last week, we took a drive out to Castle Dome in the desert and visited the museum there. Lots of interesting artifacts of the old silver mining area and town. We had a nice, quiet Christmas and enjoyed a potluck dinner at the RV Park. We plan to be here until mid-January. Connie has been having dental work done about once a week and she still has (at least) a couple visits left. She also got new glasses in Mexico for $225, which cost here over $500 at a SAM's club 6 years ago.
All in all, it's been a wonderful 2014. After over 10 years living and traveling in our motor home, we're not ready to give it up anytime soon. We love the freedom to go and do as we please. Alaska next year will be fantastic. We don't make plans too far in the future, so we have no idea what else we're doing next year.
BTW - gas is now $2.21 a gallon and diesel is $2.79 a gallon in Yuma. We hope it stays low for next year and as long as possible.