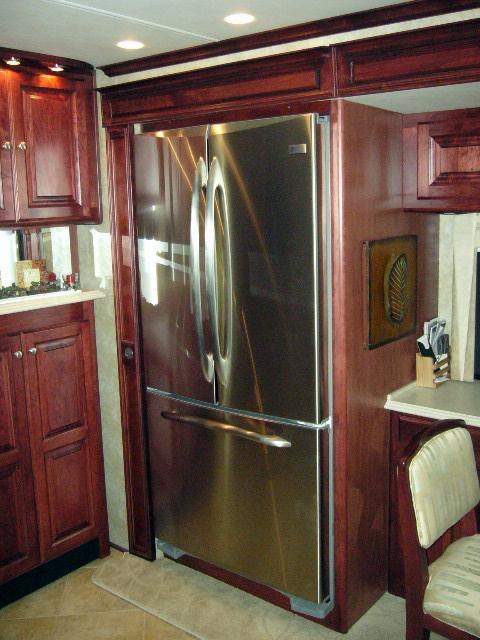 Since we boondock (dry-camp - no utility hook-ups) many times, sometimes for a month or two during the winter, we were concerned about getting a residential refrigerator in our new Tiffin Phaeton motorhome. This was a FREE option, compared to the standard 12cf RV fridge that can also use propane when there's no electric hook-ups. However, the thought of having a 21 cubic foot household fridge made the thought VERY tempting. With the order of a Phaeton equipped with the residential fridge, Tiffin also added two additional house batteries and an upgraded 3000 watt inverter - all at NO additional charge! This made the thought even more tempting.
We tried to get advice from other RV'ers who have a residential fridge. Specifically, I wanted to know how much power the fridge would consume running off the inverter and 12volt batteries. Since I was used to having a TriMetric battery meter in our old motorhome, I was used to measuring all power consumption in amp hours (AH). To me, it' simple math. We have 660AH of battery capacity. To prolong battery life, you don't want to deplete more than 50% of your battery capacity. Therefore, we have about 330AH of battery we can use before getting critical. Although almost all recommendations were "go for it", "you'll love it", "no problems on battery", or "wouldn't live without a residential fridge", I couldn't get the straight answer I was looking for. I simply wanted to be told "the residential fridge will use about "XX"AH at 12volts". If "XX"AH was very high, this would make using a residential fridge for dry-camping impractical. We don't want to be running the generator all day long, just to keep a fridge running. Since we have some solar panels, our biggest concern was overnight. Would a residential fridge use 300AH at 12volts in a 9 hour period? You can't (shouldn't) run a generator while others are sleeping nearby.
It also wasn't just a matter of how much power the fridge would require, but we also had to consider the inefficiency and power used just to have the inverter turned on 24 hours a day. If this all proved to be impractical, we "could" turn the fridge and inverter off overnight. Since the fridge and freezer doors would remain closed, perhaps it would remain cold enough overnight. This wasn't our preference, but it was still an option.
Even though we never got the clear answer we were looking for, the temptation of the large residential fridge won out. Besides the large fridge and freezer, we knew it would be much more efficient than the RV fridges. We've never had rock solid ice cream in a RV before! So we took recommendations of everyone and gambled that all would work out. We orderd our new Tiffin Phaeton with the GE profile 21cf residential refrigerator.
After receiving our new motorhome, we REALLY did like the large fridge. And ice cream is EXTREMELY hard! The fridge is now kept at 36F and the freezer is at -1F degrees.  You'll NEVER see that in a RV fridge! As of this writing, we've only had the new Phaeton for 10 weeks, but already can't imagine not having the residential fridge. It makes our home on wheels much more like a regular home. But.... what is the power requirement when on the inverter and batteries? How will it effect our boondocking? Will we have to turn it off at night to save batteries?
Our preliminary tests while staying overnight in a couple parking lots reflected all would be okay. It appeared the batteries were drained about 40% overnight. However, without my battery meter installed in the new Phaeton, we really didn't know. We could just use the battery voltage as a guideline. For my AGM batteries, 12.2 volts SOC means the batteries are at 50% capacity. But looking at voltage isn't an accurate measurement, as the battery voltage will always be lower when running on a load (the inverter). When looking at battery voltage to determine your "State of Charge" (SOC), the batteries can't be under a load and need to have set without a load for many hours. It wasn't until having the Phaeton for 2 months did I finally get a new TriMetric battery meter installed. NOW I can get an accurate reading of the true power usage of the residential fridge (and everything else).
With the battery meter installed, we recently spent the night in a Casino parking lot and got some good readings. The answer to my original question on "how much power does the residential fridge require when on the inverter and batteries" was answered. The answer is.... 25AH at 12volts WHEN the compressor is running. While various conditions will dictate how often the compressor runs, during my test the compressor ran about 20 minutes each hour. At this rate, the residential fridge would use about 8amps each hour while on inverter and batteries. A very manageable number. However, I have seen the power consumption jump to over 50AH with just the fridge running. I presume this the "automatic defrost" running. But this usually doesn't last long and I've only seen it a couple times a month. The next question is how much power is consumed leaving the inverter on all the time. In my case, I'm more interested in how much power is used overnight. My overnight test showed that with almost everything turned off in the Phaeton, we use about 12AH. This is for the inverter on, the residential fridge on (but not the compressor running), TV's and DVR plugged in and in "sleep" mode, and any other phantom loads. Overnight, we used 120AH in an 8 hour period. For my 660AH battery bank, this is less than 25% of my capacity. Since my initial tests, we now turn OFF the inverter at night. This has worked out very well. We save the 120AH of battery usage during the night. Normally, the freezer is 0 or -1 degrees and the fridge is 37 degrees. When we turn the system back on in the morning, the freezer is 9 or 11 degrees and the fridge is 39 degrees. Acceptable temperatures for us. We're not getting into the fridge at night and it's very well insulated.
During the day, I have 1000watts of solar that will output about 60AH (max). Since most electric devices are off during the day, my solar system will keep up with the demand and charge the batteries. On a sunny day, the solar system will provide enough "juice" to keep the inverter on, run the fridge and other appliances, and 100% charge the batteries before the sun goes down. This will reduce the need to run the generator too often. After recently dry-camping for 30 days, we ran the generate an average of 1 hour a day. But this was mostly due to using the microwave, and some for battery charging on cloudy days.
Bottom line - the residential refrigerator installed in our 2010 Tiffin Phaeton running on inverter and batteries can easily be handled. Although my goal is to reduce the need to run the generator often, we'll still need to run it once and awhile to keep the batteries fully charged. The Phaeton has a "Automatic Generator Start" that will automatically start the generator when the batteries get too low. I've set mine to start the generator and start charging the batteries when the batteries get down to 12.0volts. But the generator hasn't automatically come on for almost a year now. The battery voltage never gets this low. To me, this is good news. I don't NEED to run the generator often.