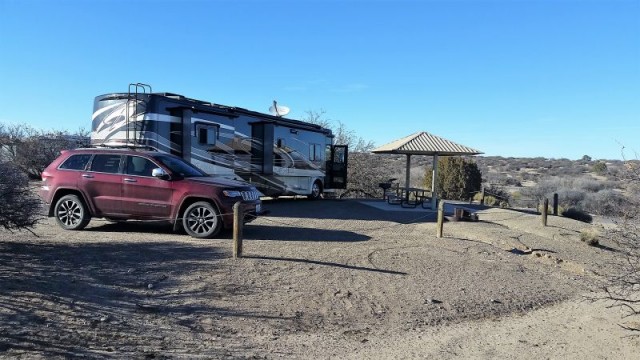 We've been fairly busy here at Elephant Butte State Park near Truth or Consequences in New Mexico. We got a nice site looking out over the lake, in the distance. There's plenty of "dry-camping" available, either in a developed site or just out in the desert. Some people are even camping out on long sandy points, just a few feet from the water. When we got here a couple weeks ago, it was getting down below freezing at night, so we decided to pay the $4 a night (with the annual pass) and get an electric site. But lately, the weather has been great! ...
Here's a 360° photo of our site #18 in the Quail Run Campground:
Friends had recommended the Geronimo Springs Museum in the town of Truth or Consequences. It was only a few miles away, so we stopped by for a visit. For a small town museum, it was packed full of displays and information. The emphasis was mostly on local history and artifacts, but it was very well done and interesting.
Truth or Consequences is also home of Spaceport America. They want $65 per person to take a tour, but there is a small visitors center for the Spaceport in town. What a great disappointment! The Spaceport America visitors center had nothing put a couple learning displays. Almost ZERO photos or information on the Spaceport. <continued>

Another day trip was to the old mining town of Chloride, NM. The history of Chloride reads like the script for a bad western – silver strike, population boom, Apache raids, salvation by the militia, cattle versus sheep, tar and feathering, even bear attacks. There's plenty of the old buildings still standing. Today, many of Chloride's original structures still stand. The old Pioneer Store is a museum next door the former Monte Cristo Saloon and Dance Hall houses a gift shop and gallery featuring work by local artists. Both are open seven days a week from 10am-4pm. Part of what makes a visit to Chloride is the story of the museum. For over 60 years, the old Pioneer Store was boarded up still full of merchandise. It sat that way until the late 1980's when it was purchased. The new owners made the building safe again, cleaned up all of the merchandise that was still there, and turned the store into a museum. We got a personal tour by the daughter of the new owners. She had very interesting stories and the museum was stocked full of the same merchandise that miners and their families were buying and using over 130 years ago. If you're in the area, visiting Chloride is a must!

Since we were only a couple hours away, we drove on up to Albuquerque to Kirtland AFB. I wanted to update the information on the campground for the ttp://www.MilitaryCampgrounds website. I also made a new driving tour video of the campground. Another couple of days were spent washing the Jeep and the motor home.
A few days ago, Boomer friends Ray and Pam Santana came into town. They're staying at the nearby Caballa Lake State Park, but came over to our place for mini happy hour. Although the Santana's have only been on the road for a little over the year, they're very active in making videos for YouTube. We then arranged to spend an afternoon together in Hatch, NM to have a chili cheeseburger at Sparky's Burgers. You can't be in the area and not visit Hatch, NM - Chili capital of the world. Sparkys burgers were highly recommended by other Boomer friends. Yesterday was a great day for the short drive to Hatch with the Santanas. Sparkys is another unique place, only open Thursday - Sunday. While there was a line to get in, it moved pretty quickly. We all agreed with our friends, their popular chili cheeseburger is one the best we've ever had.