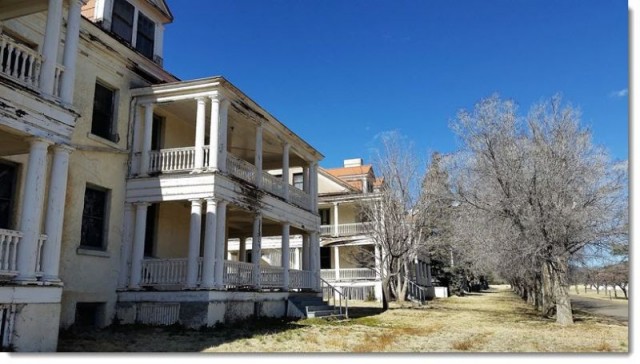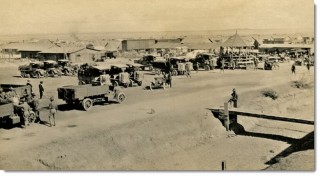 While staying at the Pancho Villa State Park in New Mexico, we spent the last 12 days relaxing, working a bit on the computers, and playing tourists. One day, we had a few road-runners chasing each other for hours. I think the female was going to eventually loose that battle. The state park has a nice, small museum explaining what happened in March 1916 with the raid by Mexican General "Pancho" Villas irregulars. We visited the museum and learned more about this raid. It was the last major attack on U.S. Soil by a foreign nation. It was only 4 months after General Pershing returned from the "Punitive Expedition" that Pershing was sent to Europe for World War I. The lessons learned hunting Pancho Villa for 10 months were invaluable in Europe.
Since the state park is only a few miles from the US/Mexico border, we couldn't resist taking a trip out of country. Actually, we'd been there before and knew about the "Pink Store" in Puerto Palomas, MX. You can park for free at the border and walk across into Puerto Palomas. It's less than 1/2 mile to the main tourist store in town. We looked around at the souvenirs and had a wonderful combination lunch. We enjoyed lunch so much, that we returned on Valentines Day for a wonderful rib-eye chili con queso meal. Great meal! The Pink Store welcomes US tourists and provides the first drink on the house. Of course, we took advantage of the free cervazas and margaritas.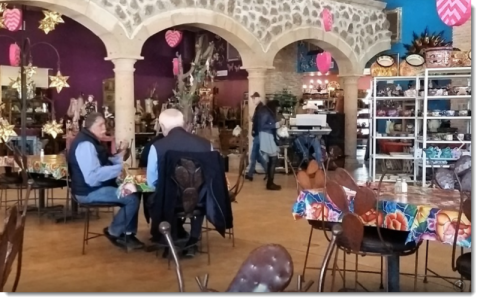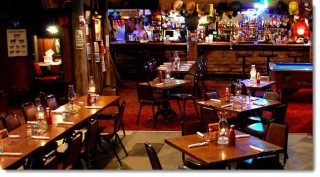 Friends had told us about the Adobe Deli Steakhouse outside of Deming, NM. We decided to do some shopping in town and check out the Deli. Well, it's a bit more out of town than we expected, but not more than 5 miles. We started to wonder if we were going to the right place, as there was nothing out there but fields and... the Adobe Deli Steakhouse. A very "unique" place that appeared to once be a hopping place. But lately, it looked like it had been neglected and not used much. However, the dining area was still in use and the food was good.
A couple days ago, we took a day drive to Silver City, NM. There was no special reason to go there, other than to go for a scenic drive. However, we did discover the Little Toad Creek Brewery and Distillery. We ordered their "Tasters Flight" with six 1/2 ounce samples of various liqueurs. We sampled their spiced rum, a peppermint liqueur, an orange liqueur, an apple brandy, an apple/orange brandy, and their version of tequila (Tegila). All was good, but we preferred the flavored liqueurs and tequila. We also stumbled up Fort Bayard.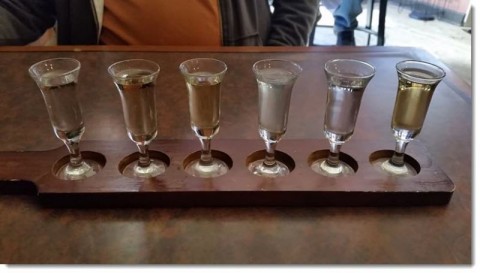 Fort Bayard served as an Army post from 1869-1919. Originally the fort served to help protect settlers and the mining industry from Indians, specifically Geronimo. During the last 19 years, the Fort was an Army tuberculosis hospital - the dry climate and high altitude provided perfect conditions to aid in treatment. In 1919, the Fort was turned over to the U.S. Public Health Service to administer the hospital, which eventually cared for over 1,200 patients. This was the largest tuberculosis sanatorium in the world. Many old buildings remain, but most have been removed.
Yesterday, we met up with Boomer friends Sam and Bob Fletchner at the Escapee RV Park in Deming, NM. We went out to lunch in Deming at La Fonda Mexican Restaurant. I don't recommend it - one of the worst Mexican meals I've had. Today, it was time to move on to another New Mexico State Park.
We moved to Elephant Butte Lake State Park and were worried about getting a site. It's been cold at night lately and we wanted electric for the heaters. We got VERY lucky and got the last electric site available. We're settled in again and will be here for two weeks. Again, not a bad deal for $4 a night (with our annual pass) for 50amp electric with a view of the lake. Yippee! More places to explore!