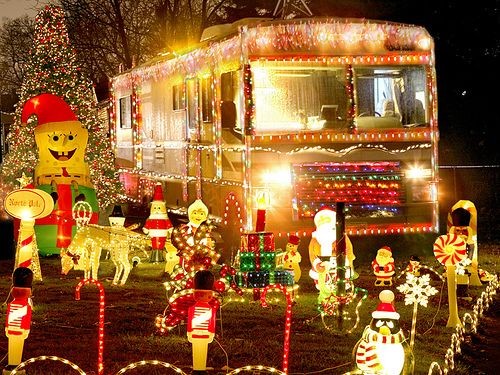 Dear Family & Friends,
2015 was a banner year for us and we would like to share some of the highlights we had.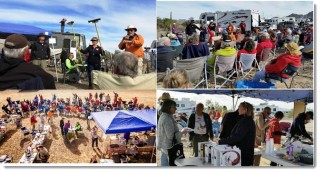 Though 2015 didn't start out so wonderful for Larry, January found us in our annual spot of Quartzsite AZ. We enjoy gathering with our RV friends to spend a couple of weeks in the desert. We had just arrived and Larry was putting up the solar panels when he fell off a ladder and broke a rib. Though it slowed him down a lot, it didn't stop us completely from enjoying all the activities.
After "Q" we continued to explore the desert, this time in CA. We've always wanted to see Joshua Tree NP so off we went to spend a couple of weeks exploring. During that time Connie was able to celebrate our good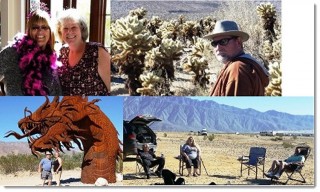 friend's 50th birthday. We then headed to Borrego Springs CA to enjoy the desert and the metal sculptures. Larry's brothers, Kenny & Rocky and his family, came to spend some time with us as well. During our time in the desert, Larry decided he needed a hobby. His hobby of choice, drones. He was intrigued with all the techie aspects of them so after some extensive research, off we went to San Diego in hopes Best Buy had the drone he was

hoping to buy. He was able to purchase his new 3DR Iris and all the components and add-ons he wanted. But he needed to learn how to fly so he bought a trainer. He has enjoyed playing with his drones and has since upgraded to a 3DR Solo drone. Larry has been having a lot of fun with his toys and has taken many videos.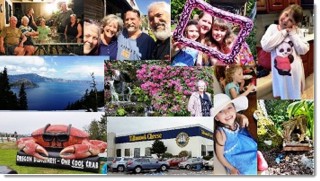 We have talked about exploring Alaska ever since we started full timing but we have worked every summer. But last winter we made the decision that 2015 was the year we were going! We headed north with the plan of meeting our friends Bob & Joyce in WA and crossing into Canada mid-May. During our travels north to WA we stopped and visited friends and family. Another bucket list item was to visit Crater Lake in Oregon. It was still early season so there was plenty of snow all around so no exploring but the lake was beautiful in its wintery season. When we arrived in Portland spring had sprang. We enjoyed the abundant flowers and lush greenery. Seattle is where our daughter Leslie, Son-in-law Andy, and our granddaughters Kaylee & Khloe live. We enjoyed spending time with them. Connie was invited to a tea party hosted by Khloe's scout troop, we created a fairy garden for the girls to play with, and we had several sleepovers.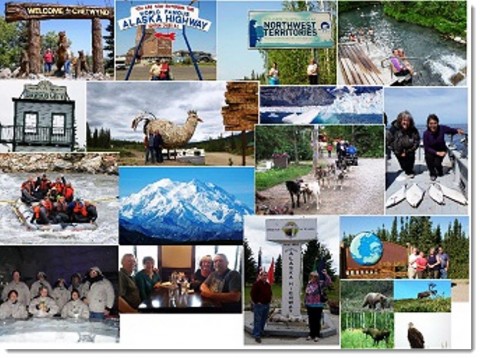 The time finally arrived to meet up with the Childre's and start our Alaska adventure. We were gone for 4 months and thoroughly enjoyed our adventure. We blogged our trip and updated it about every two weeks. For details of our trip please visit our website. Highlights included: Wood carving, driving the Alaska Hwy, the Top of the World Hwy and the Dalton Hwy. Visiting the Northwest Territories, the Arctic Circle, Denali NP, and an Ice Museum. Fishing for halibut , white water rafting, numerous glaciers, soaking in hot Springs, wildlife, and being with and meeting friends.
We crossed back into WA late August, a little sooner than we had planned for a couple of reasons. Leslie started a new job teaching 9th grade English at Bellevue High School and she started back before Kaylee & Khloe's school started. As it turned out Seattle school district went on strike (Leslie is in Bellevue school district) so that gave us more playtime with the girls.
We also had come back early so we could attend a Boomer (RV group) rally in Winchester Bay, OR. Crabbing and fishing were on the agenda for Connie. A couple of days after we arrived, Larry received a phone call from the company we worked our summer jobs with, CLM-Services with a 2016 summer job offer, White River NF Colorado.

The rally didn't officially start for a few more days so we flew to Denver, rented a car, and drove to check out the area we would be managing. About 70 miles west of Denver with some of the campgrounds around Dillon Lake and several more south of Vail, both areas are off of I-70. We accepted the positions and we will start that new adventure in April-October. We flew back to Oregon for Connie to try her hand at crabbing and fishing for Rockfish. While we were in Winchester Bay Connie's cousin Jack and his wife Sandy Lane stopped by for a brief visit while they were having their own motorcycle trip adventure. After our 2 week stay we drove away with Rockfish & Dungeness crab accompanying our Halibut in the freezer. After we left W.B. we continued south stopping to see the Coastal Redwood NF and on to Reno NV for a quarterly meeting with CLM-Services. While in Reno we attended an Italian Festival.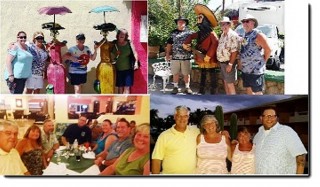 Mid-October we needed to be in Casa Grande AZ to get settled into the RV park we are staying in as we were flying to San Jose del Cabo for a family reunion with Connie's family. A Mexico getaway was nice, though a little hot. While in Cabo we met up with Boomer friends who were on a cruise and were in port for the day. We were also surprised by our daughter Cindy who joined us compliments of her Uncle Brian.
These last couple of months we have enjoyed the activities our RV resort has offered, Thanksgiving dinner (we had dinner with Cindy & Matt on Friday), Connie has been enjoying aqua Zumba when they have classes. They cancel them when it's too cold out, which has been a lot so far. Cindy & Matt have been dating about 7 months and we have been able to visit with them almost every weekend. Cindy is still working at the Chandler Police Department and just had her 10 year anniversary.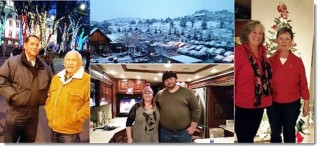 We have also had the opportunity to visit several friends. We made a trip up to Prescott to visit with Larry's dad. He is doing very well, we even had snow!
We truly feel blessed and fortunate to be able to travel and visit with friends and family through the year. We have been living full time in our motor home for 11 years now, with no end in sight. Here's wishing you and yours a very Merry Christmas and a Healthy Happy New Year!
Love & Hugs,
Connie & Larry Farquhar