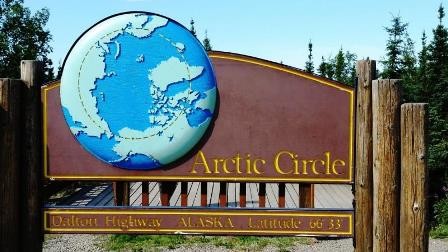 While we enjoyed our free camp site at Peterson Lake, it was time to move on. We headed back to Anchorage for a couple nights (July 13th - 14th). We stayed in the Sam's Club parking lot, allowing us to restock on groceries and do laundry. On our last night we enjoyed another Boomer get together. 12 of us met at a restaurant close by for more travel story swapping. Refueled and ready to continue on, we headed further north towards Fairbanks. We drove through the devastation left by the recent "Willow" fire. Many remote houses were burnt down. A little down the road, we stopped for lunch in Wasilla and took time to visit the Iditarod Dog Sled Race headquarters. They had a small display and some movies on the dogs. "Mushing" is a huge sport and mode of transportation in Alaska. They had a dog team hitched to an ATV. Connie took a quick ride around, being pulled by these very energetic dogs.
After lunch, we continued on and pulled off near Talkeetna for the night. We found a nice, quiet pull off to spend the night at (July 15th, 62.2982, -150.0837). We walked around this small and remote town. Besides being very much a tourist town, it's other main purpose is to provide services to the many remote homes in the area. Many without electric or water. Since we normally don't like to drive for more than a few hours (besides, we're not in a hurry), we stopped again for the night (July 16th) after only going 90 miles at the East Fork Chulitna Wayside (631504, -149.4129), which had a great and free campground. We were just south of Denali, which we'll return to in a couple weeks.
On July 17th, we finally arrived in Fairbanks. We decided to stay at the Sam's Club parking lot (64.854086, -147.708937). During the 5 nights we stayed here (July 17th - 22nd), we visited the nearby town of North Pole and the Santa Claus store. Connie may have liked looking around, but I wasn't impressed. A couple days later, we stopped at the Pioneer Park Village, but all of the stores were closed in the morning. We then headed to the University of Alaska Faribanks Museum. We had heard it was pretty good, and we had a 2-for-1 coupon from our "Toursaver" book. The museum was small, but full of a variety of displays. The art displays were okay, but I enjoyed the natural and historical section the most. Lots of information on dinosaur remains in Alaska, as well as information on the early settlers and the original tribes. They had displays on a wide variety of subjects. We especially liked the huge Grizzly Bear, and I liked the display on WWII battles in the Aleutian Islands. This is a part of WWII history not many people know about. Japan attacked, and occupied part of Alaska for awhile. Some Alaskan citizens (not military) were taken prisoner.
The following day, we used another 2-for-1 coupon on the Discovery Riverboat excursion. It was another tourist item, this time with over 1,000 people arriving on buses from cruise ships. It turned out to be better than I expected. While it was a little "cheesy" with the tourist hype, we all had a good time and learned a lot. The excursion was on a small sternwheeler (although updated to diesel). They started off down the Chena River and had a float plane demonstration, which landed and took off next to us. Then a little down the river was a sleddog demonstration by the husband of the late Susan Butcher, a famous Iditarod musher. We stayed on the boat, and people and dogs talked to us from the shore. Downstream, we had a similar demonstration and shore talk about native Alaskans at a "fish camp", then another shore demonstration of Caribou. We finally stopped at a "rebuilt" village and went ashore. Here, we stopped at 3 different arenas for displays and talks on the life of Alaskan natives and settlers. We then had about 30 minutes to roam around and look at the displays and log cabins. On the cruise back upstream, they served us a sampling of their smoked salmon. Of course it was for purchase on board or back at the gift shop, lol. But I thought the tour was worth the $63 we paid for the 2 of us (with coupon). While on the cruise, we saw the old "Pump Station", which is now a restaurant and bar. The weather was great and they had a nice patio setting on the river. The four of us headed there for a snack and drink. A very nice day.
We started feeling a little guilty about staying in the Sam's Club parking lot for so long. We started looking for another place to move to that wasn't expensive. We knew Fort Wainwright had a campground, but we didn't need full hook-ups. We then learned they also had a small campground that was dry camping, for $66 a week. We moved into Chena Cove Campground (64.854086, -147.708937) on Fort Wainwright and stayed there from July 22nd to Aug 2nd.
The next day, we made a day trip to the Arctic Circle. There was no reason to go there, other than to say "we've been to the Arctic Circle". I was a little apprehensive about the drive, as I've heard many horror stories about the Dalton Highway. The four of us packed up lunch and loaded in the Jeep Grand Cherokee. It was about a 5 hour drive to get there. The horror stories were highly exaggerated. Yes, most of the trip is on a gravel road, but the gravel was hard packed. We did encounter a few large potholes and some frost heaves (humps), but the road was much better than expected. I wouldn't want to take my large motor home on this road, but a truck camper would be just fine. Just watch the road and slow down as needed. The Alaskan Pipeline follows the Dalton Highway, so we had some great views of this 800 mile pipeline. It was a little after noon when we arrived at latitude 66 degrees, 33 minutes, the latitude coordinates of the Arctic Circle. There's a picnic area and campground located here. We took our photos, had lunch and enjoyed the views. During our stop here, vans full of people arrived to take their photo by the sign. What the four of us did on a tank of gas, these people paid over $250 each for the same trip in a van. On our trip back, I did get stuck behind a water truck. He started spraying water on the road for a grader to level it out. This type of gravel easily turns to a slushy mud when wet. My Jeep was covered in this crusty mud, which turned hard when it dried. This did tell us, driving this road when it's wet is a complete different experience than when it's dry.
A couple days later, we had a day full of exploring additional sites in Fairbanks. This last weekend, Fairbanks was had their annual "Golden Days" celebration. We started the morning by watching some of the parade. We thought it was over and walked over to the Fairbanks Visitors Center. They had a real nice display there on the local culture and life in Alaska, as well as movies every hour. This is well worth the visit. An hour (or more) later, we walked out and the parade was still going on. We missed much of the parade! We then headed over to the University of Alaska Fairbanks "Large Animal Research Center". They have Muskoxen, Caribou, and Reindeer here. You can pay for a tour, but we just stayed in the picnic area. We mainly wanted to see the Muskoxen. Our next stop was at the Georgeson Botanical Gardens. Full of a variety of plant life. However, many of the flowers were on their downside. Next stop for the day was at the Fairbanks airport to view an old C-47 aircraft. During WWII, Fairbanks was used to prepare and ferry aircraft to Russia as part of the "lend-lease" program. A couple of these old C-47 aircraft given to Russia during WWII had been making a tour of the USA west coast. They were back in Fairbanks, preparing to make the flight back to Moscow. Although the crew didn't speak much English, we were allowed to go in these old planes and look around. They were preparing to take off soon, with Nome Alaska as their next stop, then on to Siberia.
The next day, July 27th, we headed back into downtown to view the annual "Red Green Regatta" on the Chena River. This was the last year for this crazy regatta. There were 78 entries, with home built boats and rafts. They were made out of oil drums, wooden pallets, milk jugs, duck tape, and all sorts of materials. The crazier, the better. It was fun watching them launch, float down river and have water fights for a few miles. We were at the start, then went to the end at Pioneer Park. Unlike our first visit here, everything was open and alive. We had a nice lunch here and looked around a little more.
While the weather has been pretty good (sometimes hot) these past 2 weeks, we've had a bunch of rain come in lately. These last couple of days have been at home, catching up on computer work. We'll be in Fairbanks for another 5 days, then are heading back to visit Denali National Park.
Here's our financial facts since crossing into Canada on May 16th to today, July 28th. So far, we've spent $1993 for diesel fuel, $331 for auto gas, $1332 for groceries (includes wine and beer), $772 for dining out, $617 for tours (etc.), and $720 for camping (all in US dollars).