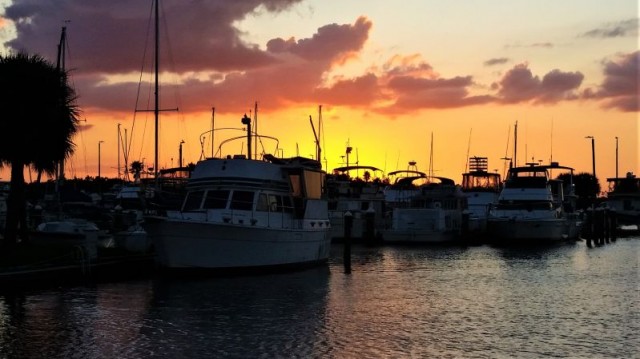 While staying at Camp Carlson at Fort Knox we did see the United States Bullion Depository, but visitors aren't allowed and they don't give tours. They publicly state there's over 147 million ounces of gold stored there, currently worth over $216 BILLION dollars. Photos aren't allowed, even from the highway, oops! We did get to visit the General George Patton Museum Of Leadership also located on Fort Knox. A nice museum depicting Patton's career, including several of his personal items on display.

During our 4-day stay at Camp Carlson, we kept busy playing tourists. One of our day trips was to visit Churchill Downs in nearby Louisville, KY. This is a Thoroughbred racetrack most famous for annually hosting the Kentucky Derby. There wasn't any horse racing gong on, but we did visit the Kentucky Derby museum, had lunch there, and took a short tour of the race track.
About 90% of the world's production of Bourbon Whiskey is made in Kentucky. While here, we had to visit the famous Jim Beam distillery. It was a nice and interesting tour, but I was a bit disappointed. The tour isn't of the main distillery and bottling area. Instead, the tour is of a small "craft" bourbon area with a very limited production. You do get to see the steps used in the distillery, but on a very small scale. During the tour, you get to sample the various stages of the bourbon being made. You even got a taste of the finished bourbon directly from the barrel. I passed - I was put-off on how they do it. They would pass a small jar around and everyone put their finger into the bottle to get a taste. They stated they didn't worry about "germs" being passed around, as the high alcohol content killed the germs. Maybe, but I'm not a fan of tasting something where hundreds (thousands) of other people have put their fingers into. The tour was interesting and the highlight was the 3 samples of various types of their bourbon at the end of the tour. There were dozens of other distilleries in the area, but touring one was enough for us.

Another one of our day trips took us to the Mammoth Caves National Park. This is the world's longest known cave system, with more than 400 miles (643 km) explored. They offer over a dozen different types of tours within the cave. Most tours were already booked. We didn't know the difference and difficulty of the various tours, so we didn't book ahead of time. We waited until we arrived and ended up taking the "Gothic Tour". We've toured many caves and caverns, so we had something to compare this cave to. This small portion of the cave that we saw was very unimpressive. This may also explain why there's only one of these tours given a day and why it was still available. However, the passageway and "rooms" we did visit were very large, which is where the name of "Mammoth Caves" comes from. They don't allow flash photos inside the cave.
Florida

We had upcoming plans to be in Long Beach, California by November 3rd. Connie was helping to plan a 50th anniversary party for her parents to be held on November 9th. We kept changing plans on how to get to California. If we flew, we would have to keep the motorhome somewhere secure for the week while we were gone. We also have plans to take our daughter and grand-daughters to Disney World in Florida this coming February. If we drove to California, we would have to turn around and head back to Florida. After changing plans several times, we ended up rushing to Patrick AFB near Cocoa Beach in Florida hoping we could get a RV site at the Manatee Cove FamCamp for the winter. They don't take reservations, so we thought arriving mid-October before the winter snowbirds would give us a good chance of snagging a site.
After leaving Camp Carlson, we headed to Patrick AFB. This involved a few days of long drives. The first day, we made it to Lake Allatoona GA and stayed at McKinney Corps of Engineers campground. This was a nice campground but heavily treed, we were lucky to find a hole in the trees for the satellite. The next morning's drive took us right through Atlanta's rush hour traffic, ugh! 2 hours of stop and go traffic. Our next stop was in north Florida, we stayed in a small hunters camp near Lake City, FL. It was nice and quiet, with only one other camper in the area. The next morning, we drove down to Cocoa Beach (near Cape Canaveral). We arrived at lunch time and waited for the office to re-open. Although we counted over 30 vacant RV sites, we were told there wasn't anything available for long-term. We planned to stay here for 4 months. After a bit of persisting, we finally got a site for the next 4+ months. I think how they handle site assignments here needs to be improved. Our site is small. The neighbors are only 5' away with their sewer hose going down our patio. But at least we have a FHU site for up to 170 days!

After getting settled for the winter, we made the long flight to Long Beach, CA. We arrived a week before the 50th Anniversary party for Connie's parents. It took us a few days to adjust to the 3 hour time difference. Jet lag hit us pretty hard at first. Arriving early gave us time to purchase all the food and booze for the celebration! Connie also met up with her brother Brian, who is helping to plan the party. Brian lives in the area and is a good cook and will be preparing the meats. Between shopping trips, it was a relaxing week. I hit the hot-tub almost every day. One night, we had dinner with Connie's parents, Jack and Addie. Connie and I also celebrated our own 41st anniversary during this trip. Wow, 41 years has gone by quickly!
Jack and Addie's 50th Anniversary party went off great! Almost 80 friends and family attended and the food was fantastic. Great job Connie and Brian! The next day, the entire family gathered at Brian and Ronda's house for left-overs. It was a mad-house, as usual. After 9 days in California, we're back at Patrick AFB and ready for our winter hibernation.