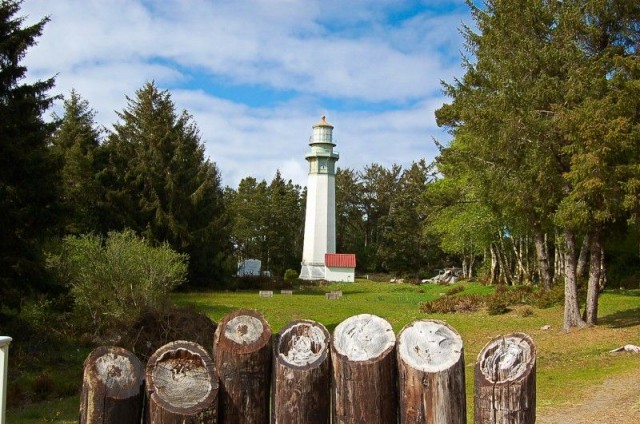 After missing three dates that we were told our motorhome would be ready, it was FINALLY ready after midnight on the 4th day. They replaced the Turbo and the VGT. They did allow us to spend the night in front of their gate for the night. How nice of them.

From Portland, we headed to the Northern Oregon coast. We wanted to check out the campground at the Camp Rilea Training Facility (Army National Guard) near Warrenton, OR. A small and quiet campground, surrounded by well kept green grass. Connie enjoyed watching a herd of Elk nearby, a couple deer wandering through the campground, and a pair of Osprey in a nest near us. Since we arrived on a Saturday without reservations, we were lucky to get an electric only site. This suited us fine, as it was $10 less per night. We were enjoying our stay so much that we extended a couple more days. We ended up staying 5 nights. During our visit to Camp Rilea, we made a day trip to Tillamook, OR. It had been many years since we toured the Tillamook Cheese Factory, now called the Tillamook Creamery. In addition to cheese, they now make yogurt, butter, and ice cream. They have a new, self-guided tour facility. It was fine, but I was disappointed. It was small and you saw them making one kind of cheese. Not the grand tour I was expecting. But the cheese samples were good and we shared some ice cream. Yumm!
While staying at Camp Rilea, we also made a day trip to Fort Stevens State Park, which is located almost next door to Camp Rilea. The original earthen fort was completed in 1865 to protect the mouth of the Columbia River from Confederate gun boats and the British Navy during the Civil War. The post later served as Oregon's only coastal defense fort during the Spanish-American War, World War I, and World War II. The fort has the distinction of being the only military fort in the United States to be fired upon by an enemy during time of war since the War of 1812, when it was attacked by a Japanese submarine on June 21, 1942. Much of the earthworks and artillery batteries are available for viewing. We ended up staying much longer than we thought. There was so much to see! We enjoyed walking on the beach to find the Peter Iredale shipwreck.
From Camp Rilea, we headed across the Astoria bridge into Southern Washington. Our destination was the Pacific Beach Resort and Conference Center, operated by the U.S. Navy. This quiet campground is located on the cliffs overlooking the Pacific Ocean. We arrived on May 2nd. They were having their "Customer Appreciation", so we got our RV site for $12.50 night. This included electric, water, and a dump station. This large resort has several houses, cabins, a hotel, campground, and RV Park available for rent to authorized military. It's a nice get-away for our military folks. During our two days stay, we took another day trip to the Westport Lighthouse Campground.and RV Park. This is a small rustic campground operated by the U.S. Coast Guard. This is an active lighthouse, the tallest in Washington state. Normally, tours of the lighthouse are available for $5, but the tour guides were not available so the tour was closed, but we were able to walk and look around the campground, updating photos and information for our U.S. Military Campgrounds and RV Parks website.
The next day, we took another day trip north to the town of Forks, WA. It was a beautiful drive through the Olympic Rain Forest, along the coast. Forks, WA is the scene for the Twilight movies. This town is benefiting from the tourists due to these movies. The town has several buildings that the movies were based on and the town provides maps for a self-guided "Twilight" tour. They even have a free museum full of costumes and props used in all 5 movies. While there, we took a detour to Rialto beach. To us, this was a unique beach full of drift wood and smooth, round pebbles. Another great day!
A couple days ago (May 4th)), we made our way back inland to the Camp Murray Beach RV Park. This is an Army National Guard campground located on the American Lake. Unfortunately, during this drive the "Check Engine" light started coming on and off for the motorhome. Dang! Guess it's back into the shop again! During our short visit here, we visited and updated the information on the three military campgrounds in the local area: 1) Camp Murray Beach, 2) Holiday Park FamCamp, and 3) Joint Base Lewis McChord Travel Camp. It was a pleasant visit, but not all business. On Saturday May 5th we were able to talk our daughter, Leslie, into meeting us for a Mexican lunch and a short visit. We'll be seeing her and the granddaughters more in a few days. Oh, and I'm remembering how much I hate city traffic!