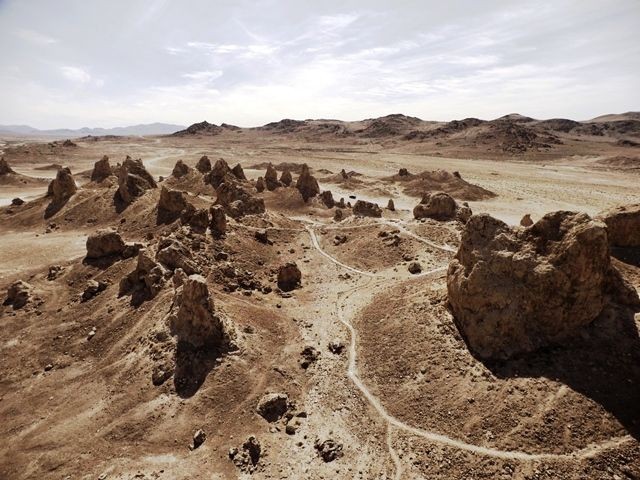 After leaving Seal Beach, CA, Connie and I headed to the Mojave desert for some peace and quiet away from the Los Angeles traffic. We had 2 weeks before we needed to be in the Sequoia National Forest for a manager's meeting for this summer's seasonal work. We had heard about boondocking (dry-camping) at the Trona Pinnacles on BLM managed land. So we decided to check it out. Located about 20 miles from Ridgecrest, CA, the Trona Pinnacles are a "Natural National Landmark". It's about a 5-mile drive on a dirt, bumpy, wash-board road to get to the Pinnacles. Although we could only drive 15mph (max) on this road in the RV, it was worth the drive. A wonderful, quiet area for some quality down time (like we need down time - our entire lifestyle is down time).
| | |
| --- | --- |
| | |
However it may appear to you, a visit to the Trona Pinnacles will be a journey into one of the most unusual geologic wonders in the California Desert. This unique landscape consists of more than 500 tufa (calcium carbonate) pinnacles rising from the bed of the Searles Dry Lake basin. These tufa spires, some as high as 140 feet, were formed underwater 10,000 to 100,000 years ago when Searles Lake formed a link in an interconnected chain of Pleistocene lakes stretching from Mono Lake to Death Valley.
In the seven days we stayed at the pinnacles, we only saw about a dozen campers. None stayed near us and they only stayed a day or two. The weather was great and the nights were dark and clear full of stars.
A Video of the Trona Pinnacles
I'm still working on refining my taking of videos and the post production editing. Here's the results of this visit:
After about 7 days there, rain was predicted. We didn't want to get caught in a muddy spot, so we decided to move to the nearby China Lake Naval Air Weapons Station in Ridgecrest. They have an RV Park on base at a fair rate. We've been here for 1 week with another week to go. Yesterday, we took a day drive north to Crowley Lake in search of the "Crowley Lake Columns". These are another unique geologic formation that was recently discovered. Since the water shortage in California over the past few years has made the Crowley Lake water level go down, these columns were previously under water and are now exposed. Similiar to the Trona Pinnacles, columns of the tough calcium carbonate have remained while the softer earth has been washed away. This left unique shapes, caves, and columns standing. Unfortunately for us, it's spring and the lake is up a bit. We found the columns, but couldn't access most of them as the water level prevented us from walking to them. You probably can walk to all of the columns along the base of the cliffs in September, when the water level is down.
Our next stop is a week's worth of managers training in the Sequoia National Forest. Then we're heading to Dillon, Colorado to work for the summer.
To get to the Trona Pinnacles:
Take access from a BLM dirt road (RM143) that leaves SR 178, about 7.7 miles east of the intersection of SR 178 and the Trona-Red Mountain Road. The 5-mile long dirt road from SR 178 to the Pinnacles is usually accessible to 2-wheel drive vehicles, however, the road may be closed during the winter months after a heavy rain.
To get to the Crowley Lake Columns:
From Bishop you head North for about 30-40 miles until you hit Benton Crossing Rd. and make a right. From here, continue Eest and bending South for close to 10 miles. You will pass many turn offs, but you are looking for a dirt road on the South that will be 2 miles after the Layton Springs Rd. turn off. The dirt road is not labeled at the pavement. If you hit Owens Gorge Rd., you have gone too far. My odometer was exactly 2 miles after Layton Springs Rd. to the dirt road turn off. You will then be able to follow the dirt roads and ignore the couple of turn offs, the tire tracks will be obvious. (Satellite view on Google Maps shows these dirts roads and you can follow along on there if needed). About 10-15 minutes of driving on the dirt road and it will spit you out on the beach of Crowley Lake. Don't go much further with a 2 wheel drive vehicle as the sand can be quite soft. Just park off to the side if you feel unsure. With an AWD or 4WD vehicle, you can make a left around the cliff sides and drive down the beach until the rocks start.