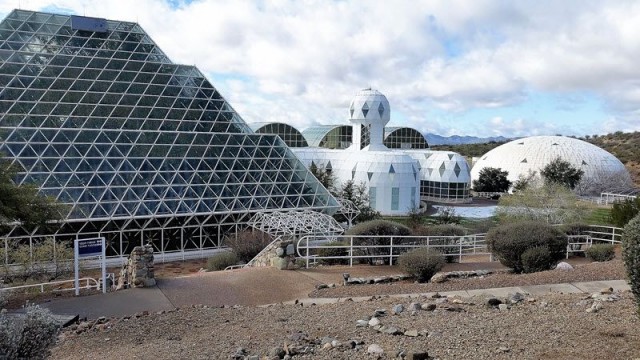 We stayed in Quartzsite for only 20 days this year. When we left on February 5th, we decided to spend the next couple of months in southern New Mexico. We stopped for 3 days at the Davis-Monthan AFB, AZ family campground. This RV Park gets very busy during the winter months, as "snow birds" migrate south away from the cold snow. We were fine with staying in their dry-camp area.
During our brief visit, we spent one day having lunch and visiting with old friends Nancy and John Grindley. Connie worked with Nancy at a dentist office in Louisiana back in 1992-1997. They've stayed in touch and we get to visit every few years. Our other day we finally did something we've been saying we were going to do for the past 20+ years. We FINALLY visited the Biosphere 2 near Oracle, AZ.
Biosphere 2 (Biosphere 1 is the planet Earth) was built in 1986 to research and develop self-sustaining space-colonization technology. Within this 3.14 acres of glass-enclosed facility, there were two human missions between 1991 and 1994. 8 scientist were sealed inside the Biosphere without any outside support (other than communications). They had to grow and sustain their own food, water, and oxygen for their 2-year mission living in this sealed environment. In 1996, the Biosphere changed hads and it's purpose. Since then, the facility has been used for research on a variety of topics dealing with Earth. There are now separate areas for a rain forest, ocean, tundra, and desert. For each area, scientist can control various factors (humidity, temperature, moisture, etc.) to see the results. While I'm glad we visited the Biosphere 2, I was a tad disappointed. I was hoping to learn more about the space-colonization aspect of what it was originally developed for. The current experiments on our climate, plant growth, etc. while important, just doesn't excite me.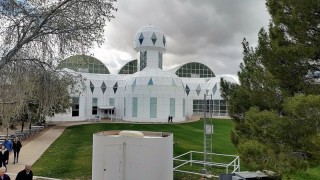 We had heard about the New Mexico Annual Camping Pass for it's state parks. A non-resident annual pass was $225 ($100 - $180 for NM residents). This allows us free camping in any New Mexico state park for almost 13 months. They key is to buy the pass after the beginning of a month. It's then good until the end of the same month a year later, giving you almost 13 months on the annual pass. Since we have other plans for this summer and next winter, we''ll only be able to use it for 2 months this year. We can stay at a state park free dry-camping for 14 days. Then we can move to another NM state park and do 14 days there. We plan to get about 60 days worth of camping for the $225. In our case, this works out to $3.75 per night. However, for $4 more per night, we can have an electric RV site (if available). There's 34 New Mexico state parks (not all have camping). Imagine having the annual camping pass and staying at a different state park for 2 weeks all year long. All for the $225 cost of the pass.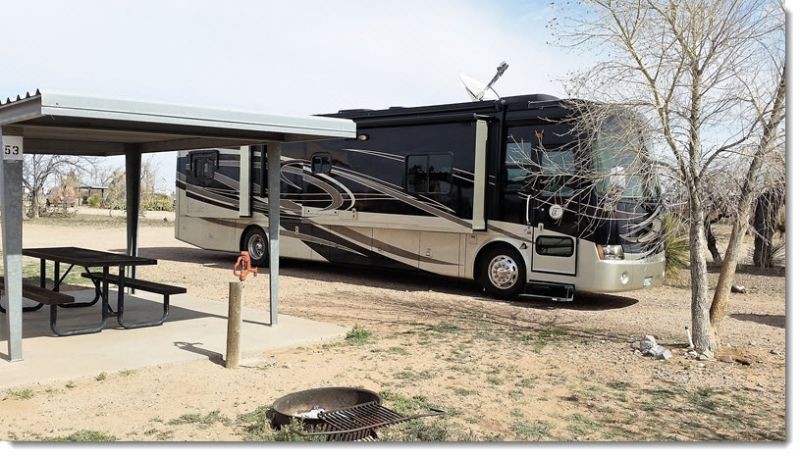 Yesterday, we left Tucson and made our way to Pancho-Villa State Park in New Mexico (31.823488,-107.6412882,642). This is near Columbus, NM on the Mexican border, south of Deming. We purchased our Annual Camping Permit and will be here for at least 12 days. We got the last electric site, so it's costing us $4 per night (with the pass). The Pancho-Villa State Park is near the location of the old Army Camp Furlong. This is the site of when General Fransisco (Pancho) Villa raided Camp Furlong and the nearby town of Columbus in 1916. This resulted in General John Pershing entering Mexico 6 days later and pursuing Pancho Villa. General Pershing took 10,000 troops on a 500-mile expedition in pursuit of Pancho Villa - without success. There were a few "firsts" for the U.S. Army during this campaign. 1) This was the fist time motorized transport had been used in action, and 2) Camp Furlong became the location of the first U.S. Army Airfield, using cloth covered by-planes.