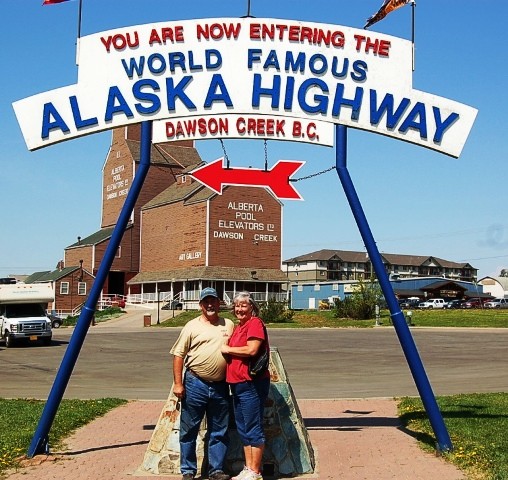 After leaving Quesnel, we moved another 170 miles to the small town of Mackenzie (May 20th - 21st). We've been moving slowly, ensuring we enjoy the trip. Why drive all day, just to get exhausted? We may have some long stretches, but we're all much happier if we keep our journey to under 4 hours a day. Mackenzie is a little off the main route, 17 miles each way to be exact. But there were two reasons we decided to make the detour: 1) They have the worlds largest tree crusher on display (huh?), and 2) they have a free city campground.
The Mackenzie Municipal Campground (55.32513, -123.093) was pretty nice, allowing "tourists" to stay in the dry-camping section free for 2 days. So we took them up on the offer! The "tree crusher" is a huge steam-roller type machine used to drive over (crush) trees. Most of the trees in the forests here are small Spruce, Aspen, and others that I don't know. Nothing like the huge Jeffrey and White Pine trees we're used to in California. These trees are easily driven over and flattened when you're drving the Worlds Largest Tree Crusher, which was only in operation for 10 months. We also visited nearby Williston Lake, which is the largest manmade reservoir in North America. (continue reading, as there's much more and more photos)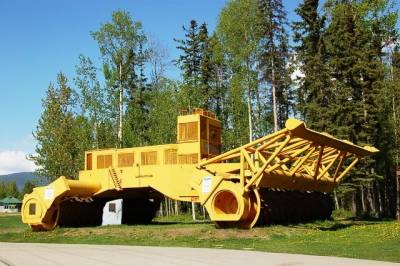 Our next leg of the trip (on May 22nd) was to the town of Chetwynd, which was only 110 miles further up the road (I told you we drove slow). Chetwynd is famous for their chain-saw wood carving competition held in early June. Too bad we were a few weeks too early for the competition, but they have over a hundred of previous carved entries on display throughout the town. We only spent one night in a city truck and RV parking area (55.6905, -121.634). Nothing fancy, but you're allowed to park here overnight for 48 hours - we stayed less than 24. Since we arrived fairly early, we had plenty of time to walk around and view many of the wood carvings. Amazing! We also went to a Farmer's Market, but it was pretty lousy. Too early for vegetables and we have enough Tupperware. We walked to the park for the market, but got a little lost. What was supposed to be a 1/2 mile wallk, ended up being over 2 miles. But the weather was nice and we needed to stretch our legs. We also got diesel here for $4.14 (US) a gallon. Here's a small sampling of the carvings...
On May 23rd, we made the long 62 mile drive to Dawson Creek. We had to stop here to be sure we memorilized our start of the Alaska Highway from Mile Marker 0. Walmart was kind enough to provide us with a quiet space to park overnight (55.7394, -120.21859). Actually, it was quiet, as there was room on the side for a few rigs. It helps to get there early. :)
In 1942, Dawson Creek is where 10,000 US Army soldiers and 16,000 civilians started building the Al-Can Highway (later called the Alaska Highway). There's an "official" plaque and a "tourist" marker for mile zero - the start of the Alaska Highway. 1800 miles later, the Alaska Highway ends in Fairbanks. We'll only go the first 1300 miles then turn SouthWest at Tok, AK. We'll get to Fairbanks in August. About 25 miles outside of Dawson Creek, we visited the Kiskatinaw Bridge, an original curved wooden bridge built for the Alaska Highway. The entire highway took less than 9 months to build, going the entire 1800 miles. This bridge also took the same 9 months to build.
The next day, May 24th, was a long drive for us. 220 miles later we stopped at the abandoned "Prophet River Provincial Park" (57.97079, -122.77708). This old campground is still open for camping, but there are no services or fees. When we arrived, we discovered the airstrip next door was being used as a helicopter port for a nearby fire. All day, helicopters were coming and going at a low altitude. We just sat around and relaxed, and watched choppers with water buckets hanging down.
Moving down the road, we drove another 84 miles to a gravel pull-out near Fort Nelson (58.90627, -123.1223) to spend the night of May 25th. Besides getting diesel fuel for $4.20 (US) a gallon, why stop here? Our traveling partners, Bob and Joyce, suggested we go visit the "Northern Territories". Many people go through British Columbia and the Yukon Territory, but not many make the side trip to visit the remote Northern Territories. We did, so now we can say we've been there. Beautiful country, remote, and not very populated. During our drive through Canada, the country has been fantastic. Lots of rivers and lakes. We've made numerous stops along the way, just to admire the wonderful views.
Our next stop was 140 miles down the road at the MacDonald Campground in the Muncho Lake Provincial Park (59.01684, -125.7755). We spent May 26th and the 27th here, at $18 a night. We just wanted to relax and enjoy the journey. Mainly, the popular Liard Hot Springs was only 30 miles away. Although we've had wonderful sunny weather, it started to rain soon after we arrived. But that wouldn't stop us from visiting the Hot Springs for a great soak. Lucky us, the rain stopped soon after we arrived at the Hot Springs. A great, relaxing afternoon in the warm waters. Since it's fairly early in the season, we beat the crowds!
I've been wanting to fly my drone for some wonderful aerial videos and photos. I plan to make it a point to start getting more photos from above. While getting ready to leave Muncho Lake, I quickly decided to get some photos from the air. I'm getting more confidence flying my drone. Today was the first time over water!
We still have about 515 miles to go before we get to Tok, Alaska. We've gone a little half way, about 1550 miles since crossing into Canada. We're eager to get to Alaska, but there's so much to see and enjoy along the route! Next stop - Watson Lake for the famous "Sign Forest". On May 28th, we left Muncho Lake and drove the 170 miles to Watson Lake. During this drive, we left British Columbia and have now entered the Yukon Territory! We found a large dirt pull-out (60.06259, -128.7149) directly across the street from the Visitor's Center and the Sign Post Forest. We spent the afternoon wandering around the 75,000+ signs people have posted here. This all started during the construction of the Alaska Highway in 1942, when a home-sick soldier put up a sign to his hometown. We enjoyed a movie about the highway in the Visitor's Center, and another movie across the street about the Northern Lights. Watson Lake is a very small town. We topped off the fuel tank again with diesel for $4.03 (US) a gallon. The dollar exhange rate has been getting better for us! Currently, it's around 80 cents US for $1 dollar Canadian. Basically, everything is 20% less than marked.
This brings us to May 29th, which finds us driving to Whitehorse. But that's over 270 miles, so we break up the trip and only drive 160 miles to the Teslin Lake Government Campground (60.23185, -132.911). This is another beautiful campground. Government campgrounds in the Yukon are only $12 CAN a night, which is about $9.60 US a night plus free firewood. Since we arrive to campgrounds early, we usually get our choice of prime sites. We got a couple sites over looking the Teslin Lake. I couldn't resist getting some aerial photos and a video of this great location.
The next morning, we moved another 90 miles to the town of Whitehorse. We decided to splurge and get an electric site at the Pioneer RV Park for $28 US a night. Part of this decision is the free WiFi. Our Satellite Internet has been working very slow lately. Since we're getting further North, the satellite is lower on the horizon. The slightest rain clouds really have a negative effect on our speed. It's been useable, but barely. We arrived in Whitehorse and are taking advantage of the faster Internet. I wanted to get this Blog updated, and uploading the photos will be much quicker. We plan to stay here for at least a couple nights (May 30th and 31st).
While in Whitehorse, we walked around town, did some grocery shopping and refueled again at $5.13 US a gallon. 4 liters of milk was about $4.80 (US) a gallon, which is much better than the $9.40 (US) we saw in Teslin. We also toured the old Klondike paddle-wheel steam boat. It was pretty interesting to see how they handled freight on the Yukon River in the early 1900's. We also toured the Transportation History Museum in Whitehorse, which showed all of the various modes of transportation used for the last 150+ years. Tomorrow, it's a 170 mile drive to Pelly Crossing for the night, then another 135 miles the next day to Dawson City.
Since crossing the Canadian border, we've now seen 11 Black Bears, 4 Moose, 2 Coyotes, and a herd of Bison. Lately, there hasn't been as much wildlife along our route. The mosquitos were pretty bad for about 4 days, but lately we've been free from them. Unfortunately, we still have a dozen or more bites from these annoying creatures. For a few financial facts, since crossing into Canada, we've spent $826 for diesel fuel, $47 for auto gas, $137 for groceries, and $118 for camping (all in US dollars).