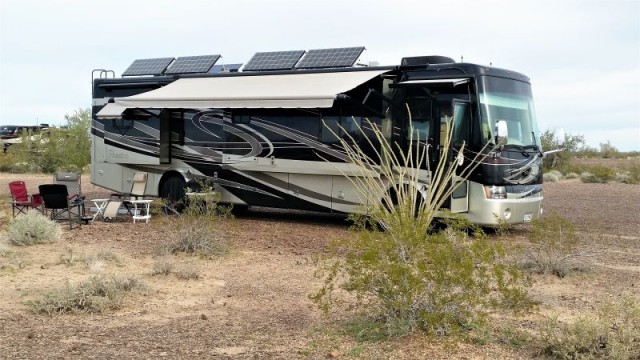 We don't like to make many reservations, as it forces us to stick to a schedule. We prefer the freedom to go and stay as long as want, changing plans as needed. A reservation prevents this. However, we know there are certain places and times of the year when a reservation is required. We just weigh our options and "might" make a reservation if it's a busy holiday and there's not many alternatives. Although reservations for staying in Apache Junction are desireable, we don't usually make them. There's hundreds of RV Parks in Mesa and Apache Junction, there's county and state parks nearby, and even dry camping in the desert a little out of town.
Earlier in the year, we did try to make a reservation at Brookhaven RV Park for the month of December. There was some confusion, as they were between managers. But I was told we could have site #22 from November 28th to January 1st. I felt something wasn't right, as they never asked for a credit card. Regardless, we arrives on the 28th as planned. And I was correct, they didn't have a reservation for us. Site #22 was now taken by the new manager. But they ofice ladies felt real bad (the same thing happened to them last week). They managed to find us a place for the month.
When January 1st came up, we had planned to move on. But we had to stick around for a couple more weeks for our annual doctors check-up. We talked about just going out to the desert near Paralta Trail and boondocking. But the weather was getting cold and having electric would be nice. We got lucky and found a site at the Budget RV Park for two weeks.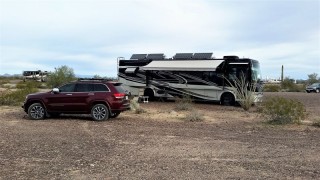 On January 15th, we made our annual pilgrimige to join our Escapee RV Club "Boomer" friends in the desert near Quartzsite, AZ. This year, they club moved to a new location. I had mixed feelings about this move. The Boomers had been going to the same spot for over 20 years. We'd been joining them almost every winter for the past 18 years. However, it turned out to be a better location (we were at 33.769978, -114.169179).
This year, there were MANY new members and this was their first time attending this annual event. But we still met up with many old friends. It was a couple weeks of fun in the desert, with potlucks, a chili cook-off (Connie won 3rd place), wine tasting, classes and discussions, 4WD trips, morning walks, dog parade, dancing under the stars, movies on the side of a RV, and much more!
Currently, our Boomer event is over and almost everyone has left. We're still here for another week. We usually stay until we're out of water and the holding tanks are full. Our record is 23 days without dumping. We've been here for 15 days. We're not sure where we're ging from here. But I think we're leaning towards exploring the southern part of New Mexico. We'll have about 2 months before we need to be in Reno, NV.
While sitting here in the desert, we made a little more plans on our summer travels. We've identified many places we want to go to, which dictated the route. We have a good idea of our timeline, as we wanted firm reservations for the July 4th holiday weekend. We know we'll be at the Theordore Roosevelt National Park (South) on July 2nd. Between April 26th and July 2nd is all flexible. We did decide to add Lake Louise/Banff in Canada on the planned route.