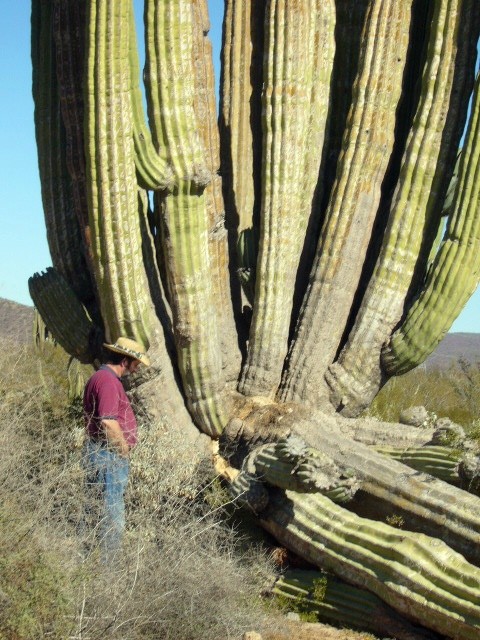 12/31/06: Middle of the Desert, CA: Believe it, or not, but Larry still has that darn cold! Before leaving San Carlos, MX, Bob and Ann took us out to an area in the desert they referred to as the "Enchanted Forest". It's a remote area full of HUGE

Cabon (?) cactus. These guys were easily 100' high! We enjoyed the day touring, touring a pearl farm, lunch, and a wonderful shrimp dinner. We enjoyed our visit with them and will be back someday. There were no problems leaving Mexico and we stopped for the night near Tucson at the Desert Diamond Casino. It's a safe and free place to park for the night. Then back to Apache Junction to have Christmas with our daughters and their families.
Christmas was fun, especially with our baby grand-daughter. It was also Cindy and Nick's first Christmas as husband and wife. Our daughters are all grown up, with their own families now. We hung around Leslie's all day and enjoyed visiting and eating. A holiday

tradition for us. We hung around town for a few days, then headed out to the 'sun and fun' with our Boomer friends. We've been looking forward to this winter all year. We met up with our Escapee club, Boomer BoF friends about 15 miles west of Yuma on BLM land. Free boondocking camping in the desert, this time on the California side. The weather has warmed up and we now have about 30 Boomer RV's staying here. For an unorganized group, we sure get a lot done together. Being New Year's Eve, today's "unofficial" activities include a 4-mile walk at 9:00am, ladies 'bead and bitsch' at 10:00am, the group getting together at 1:00pm to play various table games, a friendship 'Z-circle' at 7:00pm, and finally celebrate the New year at 11:00pm. Wow! These people know how to have fun! Tomorrow is a potluck dinner and a Blues concert by one of the members.