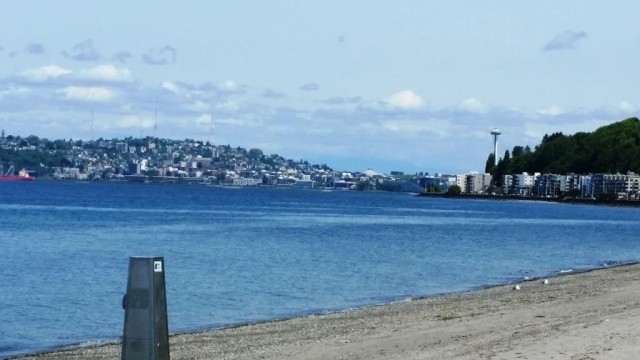 Wow, it's hard to believe that Larry posted only two weeks ago, it seems like that was such a long time ago since we were in Klamath Falls.
We enjoyed our little day trip to Crater Lake NP. We were very lucky and took the south entrance, come to find out that was the only entrance that was open. Since it was early in the season, things weren't quite open yet. In fact it was free to enter the park (yea). They had plenty of snow on the ground still and they were working on plowing the roads and trails. Their normal snow fall is 44', the last couple of years have only been 16' though. It was a cloudy day so the lake wasn't as blue as we had seen in some pictures, but still beautiful.
From Klamath Falls we moved to Beaverton, OR, which is a suburb of Portland. We set up home at the Beaverton Elks Lodge for the next week.
That turned out to be a busy, and expensive, week. The motorhome needed some maintenance, new tires, oil/filter changes for the motorhome and generator and a new RV water pump. We had decided to wait to do this all in Oregon to take advantage of their no sales tax.
We were able to get in some sightseeing in between though. We awoke to a beautiful sunny day on Saturday. We had been seeing a lot of spring flowers so I looked up to see if there was a garden in the area. We went to Crystal Springs Rhododendron Gardens and we were not disappointed. Lots of flowers and baby ducks and Canada geese to be seen. Here are just a few of our favorites.
The next day we decided to head to the coast, Astoria and Tillamook were on our list. It was to our great surprise they were have their Crab & Wine Fest going on that weekend. We tasted a couple of wines, feasted on crab melts and bought some yummy Seafood Bisque.
From there we drove up to check out the Astoria Tower.
Next stop Tillamook, we had been here before but we still walked through the factory tour and our main goal to buy some cheese and ice cream!
We met up with some RV Boomers and had lunch with them the day we were homeless (motorhome was having the oil change). I had noticed that Bob's Red Mill was located in Milwaukee OR. I love their products so we went to check them out. I walked away with quite a few things for me and some baked brownies and cc cookies for Larry. As we were leaving I saw that Dave's Killer Bread was across the street. I had made Larry wait long enough so I didn't even suggest going there as well. Oh well hopefully next time.
We stumbled across a craft store that just opened their doors, Craft Warehouse. Really nice store. They had a display for Fairy Gardens which got me thinking that was something I thought would be fun to make with Kaylee & Khloe. So we purchased our fairies and boy did that get my mind going.
We moved up to Seattle April 29th. We had the girls come spend the night Friday night. Kaylee sported this 3 generation night shirt. My sister gave this to me, I passed to Leslie and now Kaylee has it, lol.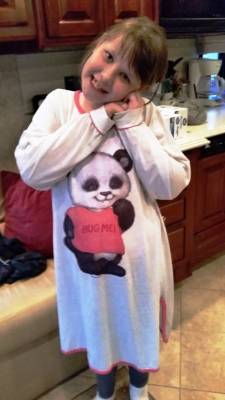 During our time together we talked about the Fairy Garden and made a few things to put into it. Saturday when we brought the girls home, we went out to the backyard and created the new Fairy Garden. It just so happened that Leslie's neighbors were having a yard sale and selling this Fairy house! This will always be a work in progress and I hope the girls have fun expanding and taking care of it.
Sunday was Khloe's soccer game. At this age they don't keep score but they all played pretty good.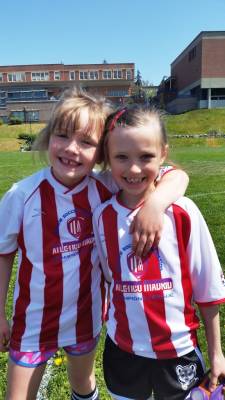 Tonight we will attend Kaylee & Khloe's glee club performance and Kaylee has a softball game. Then on Saturday I've been invited to Khloe's Daisy Troop's tea party :)