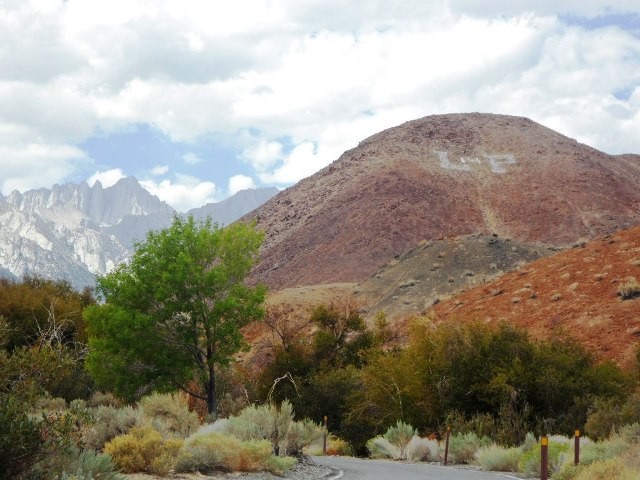 I forgot to tell you about our last weekend.
We took a drive south, again, to Lone Pine. We had recommendations to check out the Film Museum, of which we did. $5 per person donation and it was a very nice little museum. Not real big but sure had a lot of stuff in it. Oh so many movies and shows have been filmed in the Alabama Hills over the last 90 years. Hop-along Cassidy, The Lone Ranger, Gunga Din, Tremors, Star Trek V, just to name a few. The first weekend in October the Film Museum and the town hosts a festival. It's a 3 day movie fest, along with some celebrities and a parade on Sunday. This year is their 25th anniversary. http://www.lonepinefilmfestival.org/
While at the museum we bought a little book with gps coordinates to the film locations for a few of the movies and off we went to do a self tour on Movie Road. We went to a few of the locations, after that we didn't bother looking any more up because it all looked the same, lol. But the boulders in the area with the mountain range in the back were really neat. One outcropping of boulders looked like they had scales on them.
We also found out that we could boondock (dry camp) out in the Alabama Hills Recreation Area for free for 14 days. As long as it wasn't hot or rainy, it would be a nice area. There is also a BLM campground there as well, I think the fee is $6.
Another nice day spent with my sweetie exploring this area before we leave.