9/28/06: Keystone, SD: We only have a little over 2 weeks left here. I'm ready to get moving again. Partly because work is getting fairly boring, partly to see different areas, and partly to see our daughters and grand-daughter again. It's supposed to be slow season, but we have any tour busses spending the night. This sounds contradicting. How can we be busy, yet bored? Tour busses are easy to handle. There's no checking them in individually and they're gone most of the time. Since they've taken up most of the hotel rooms, there's not many other guests, so it gets boring sitting around. Many of our fellow friends/workers have left, with more leaving soon. Due to the lack of workers, Connie and I have been asked to work 6 days a week for our last two weeks. We reluctantly agreed, as this is overtime pay. Luckily, we've seen just about everything we wanted to see in the area.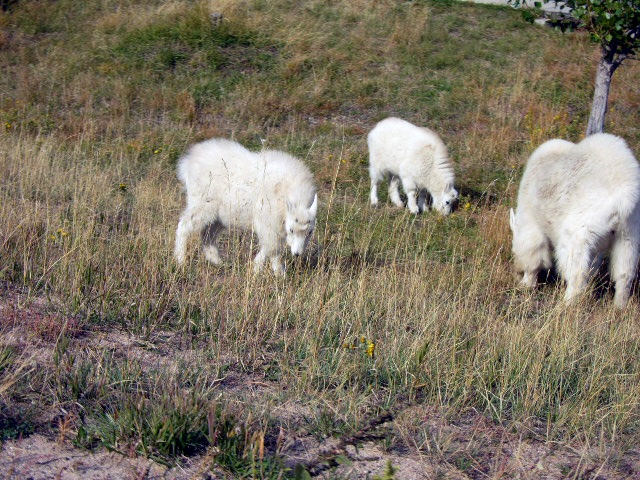 We recently had our friends who are working in the Badlands, Rob & Kim Johnson, come over for a couple days. We enjoyed visiting with them again. That afternoon, we all went to Mt. Rushmore. Everyone got excited seeing Mountain Goats nearby. This makes about 5 times Connie & I have been up to the monument. Rob & Kim toured the area for a day while we worked, then we all went to a western dinner show at Ft. Hayes. This is the buildings from the movie "Dances with Wolves" that we previously toured. Dinner was just okay, but the show was good. We all used our hospitality discount cards and got in for 1/2 price.
9/18/06: Keystone, SD: The weeks seem to be flying by now, at least when our weekends come up. This past week saw us "partying" some. Since many of our fellow workers are leaving, or getting ready to leave, more get-togethers have been happening. We had to work one night while everyone else got together for a Mexican food pot-luck. But they didn't forget about us and brought us a couple of plates LOADED with good food. Then the company hosted a "Christmas in September" party. Pretty good food, but we didn't get any good gifts (some did). We also recently had new friends Jim and Bonnie Douglass, along with Alina (from Romania), over for dinner. We're off tonight, and are heading out for dessert and a movie with everyone in the company's museum. They'll be showing the new video, "RV" with Robin Williams.
The weather has been getting colder. It feels and looks like Fall is here. The trees have been changing colors and it got down to 37°F the other night. Despite the cold, we did a day trip to the Badlands yesterday. A pretty desolate looking area, formed over millions of years. This place lived up to it's name for us. It was extremely windy during our visit. While in the park, the Jeep got a flat tire. I had it jacked up high to change the tire and the wind blew the Jeep off the jack! Now I had a Jeep with one wheel off, leaning and sitting on the ground. Some passing tourists helped hold the Jeep while I jacked it up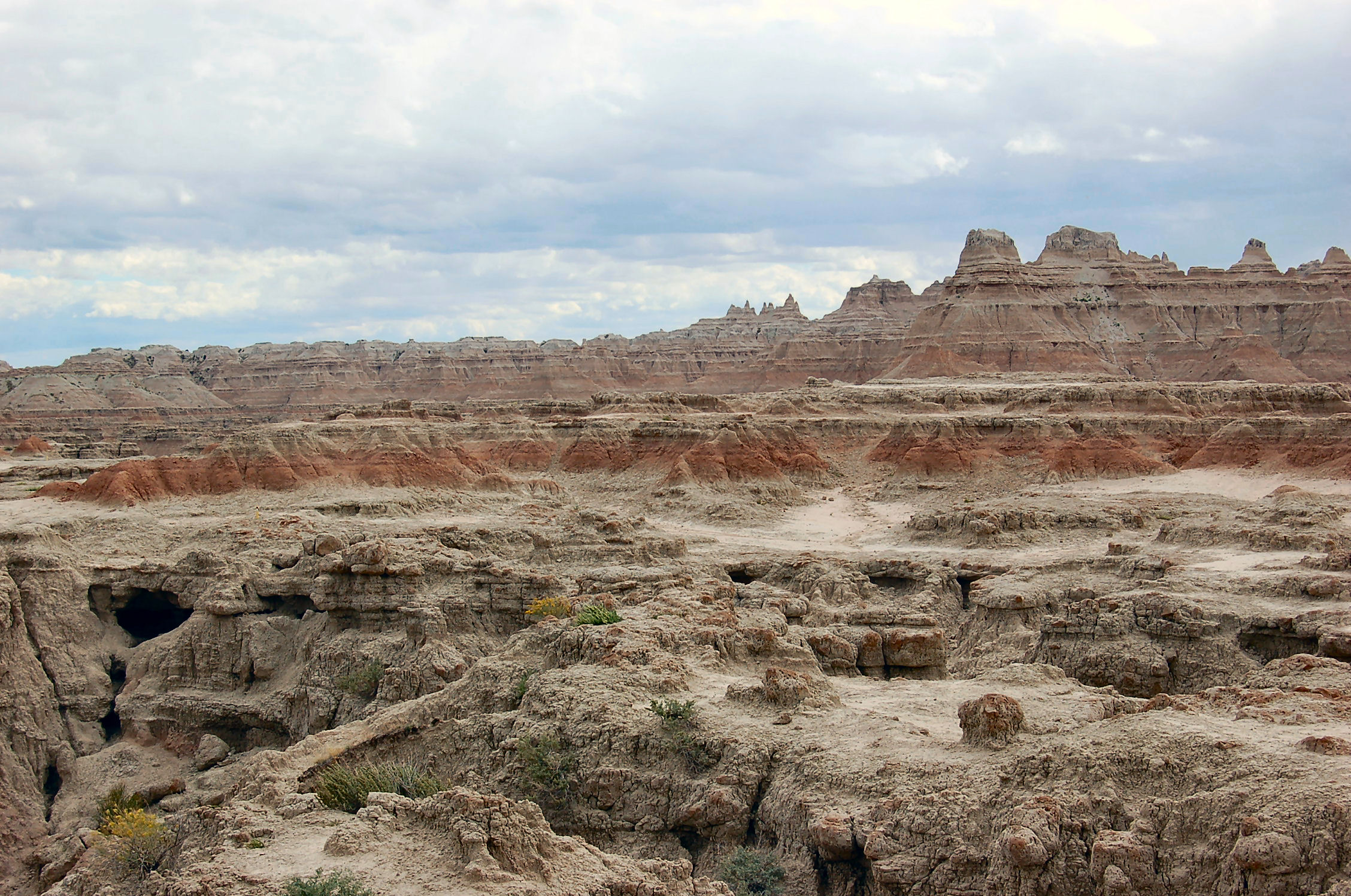 again. They stopped it from blowing over while I put the spare tire on. The Badlands was "bad" to us. On the way home, we stopped for dinner. Soon after ordering, a waitress came up and said our Jeep had rolled back down a hill. Sure enough, it rolled 20 feet and slightly hit a truck's bumper. But it did crack some plastic and they insisted on getting the insurance companies involved. Oh well, it could have been much worse. At least the Jeep didn't hit anyone, or do a great amount of damage. Again, the Badlands were being "bad" to us. We did finally make it home safely.
9/10/06: Keystone, SD: I'm sorry the travel log hasn't been updated for a couple weeks. Not much has happened in our lives, other than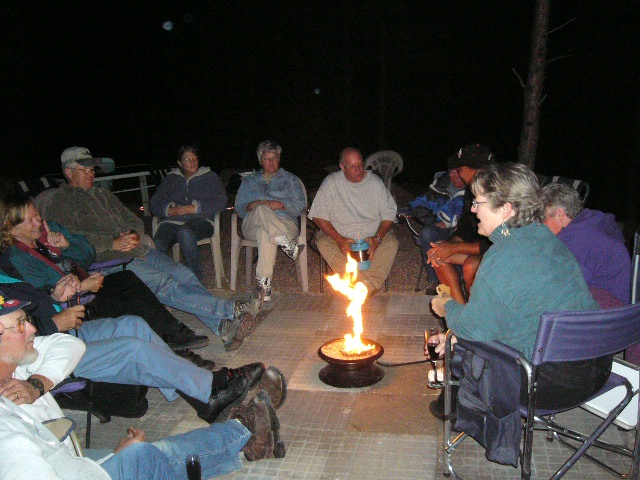 the usual "go to work" routine. However, we did enjoy a great potluck with many Boomer friends. It seems a couple of Boomers live near here and threw a little get-together. We enjoyed a wonderful evening of meeting, catching up, and eating with many Boomers. We knew some of them, met some of them once before, and it was our fist time meeting others.
Since everything is slowing down and many of our foreign guests have left, we've been making friends with a few of the remaining foreign guests. A couple of girls we're getting to now better, Patricia and Raluga, are from Romania. We've been slowly learning some key Romanian phrases. They get a kick out of us trying to say "Good Night", "Thank You", and "You're Welcome" in Romanian. We've also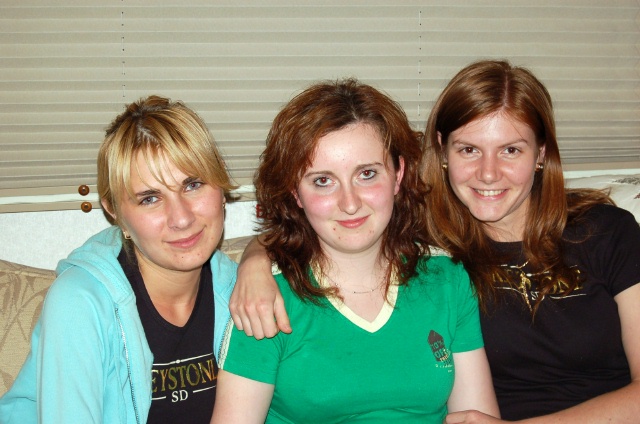 recently been making friends with Luda from Slovakia. We don't see Luda as much, and we're not ready to tackle another language, yet. We feel a bit sorry for the girls, as they work over 80 hours a week at different jobs. They're trying to make a bunch of money to take home. They don't have cars here and haven't seen much of America. We had all three over for dinner one night, and they were so very appreciative. We invited them to travel with us for a couple weeks when we leave here, but their Visa's expire soon and they'll be leaving before us. Connie and I wish we could visit them in their country someday. These are some wonderful, hard working young ladies.
Today was the first of our 2 days off for this week. Our time to leave this area is fast approaching and we still have a few places on our "to see" list. We spent most of the day at another cave. This time, it was the 2nd largest cave in the world, Jewell Cave. We've now visited the 4th and 2nd largest caves in the world. The 3rd largest cave is in the Ukraine (maybe we'll get there someday) and the 1st largest is Mammoth Cave in Kentucky (I know we'll get there!). Jewell Cave now has over 132 miles of explored pathways. We spent over 90 minutes exploring only 1/2 mile of it. As with the other 3 caves we've explored in this area, Jewell Cave is different than the others. This cave had large caverns, or rooms. The walls are covered in crystals, with few stalagmites or stalactites. We also saw cave bacon, popcorn, and ribbon. (Gee, aren't we becoming cave wise?).