6/30/06: Keystone, SD: It's been another enjoyable and relaxing week as we drove to our summer workamper positions. We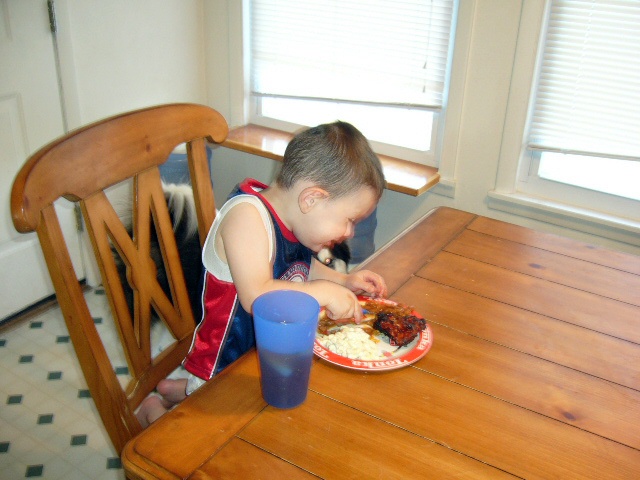 stopped for a couple nights in Cheyenne, WY (FE Warren AFB) to visit Connie's niece, Kari and her family. It was a bit strange to see how the AFB and Cheyenne has changed over the years. FE Warren AFB was our first assignment in the USAF, over 28 years ago. I still think this is one of the most beautiful military bases. It was formerly Fort DA Russell, and most of the buildings are the original brick structures. The base is a historical site and looks like an old Calvary post.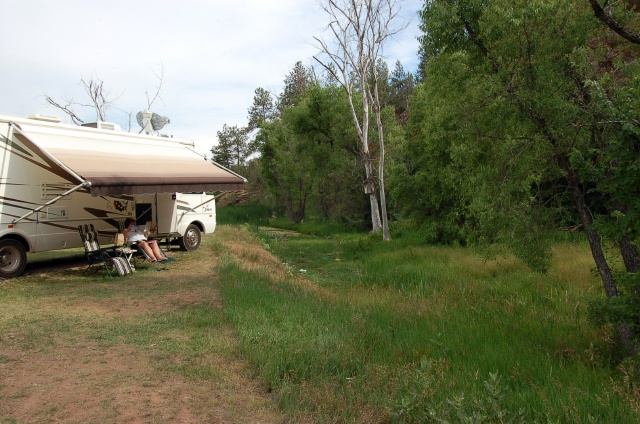 As we made the final leg towards Mt. Rushmore, we stopped only 60 miles away at a Corps of Engineers (CO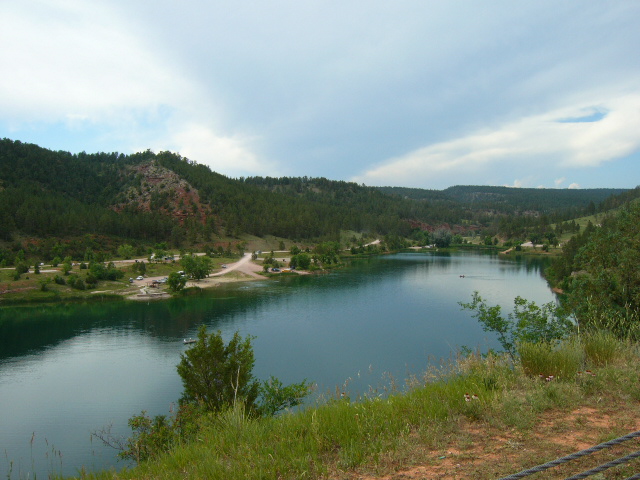 E) Cold Brook Lake Recreation Area. We've found many good and hidden camping spots at COE parks. It was $5 nightly for a dry camp in a quiet area near a lake. We camped in a nice spot along a creek. After one night, we finally arrived at our summer destination in Keystone, SD. The route we took for the last 15 miles was a MISTAKE! We came upon a 15 degree hill without warning. Now this is a steep hill! The motorhome started slowly climbing the hill, then slower, then even slower. I thought we were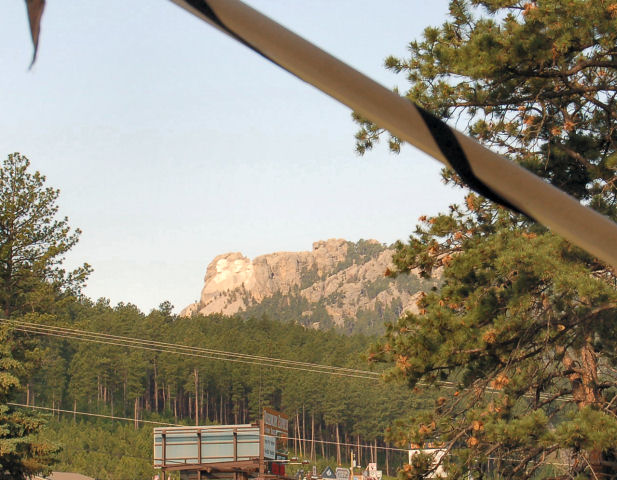 going to stop. But we slowly crawled up the hill at less than 5mph. I'd never seen a speedometer show ZERO while slowly moving. We were glad the engine didn't blow. We found our new employer's for the season. We're working for "Rushmore View Inn" until late October. They allowed us to arrive a couple days early, so we don't start until tomorrow. Just in time for the huge holiday rush. Especially for the July 3rd fireworks display over Mt. Rushmore. We got settled into our RV spot for the season and met many of our neighbors/fellow workers. The site isn't anything special, except we have a view of Mt. Rushmore from the back. This photo is from our patio.
Keystone is a VERY small town at the entrance to Mt. Rushmore park. Of course, it's all tourist stuff. I think we're going to enjoy it here. However, shopping is in Rapid City, about 25 miles away. Our neighbors are real nice, already greeting us with a social hour last night. Connie and I will be working as front desk/reservation clerks for one of the hotels. We're told, the owners are the second largest land owners in South Dakota. Here, they own 3 hotels, 2 restaurants, the convenience store, and the gas station. At least that's what we're currently aware of. They also own (at least) a large cattle ranch in South Dakota. We hope it'll be a fun and pleasurable experience this summer. We've already started on a list of the many places we want to visit while here.
6/24/06: US Air Force Academy, CO: After our little streak of bad luck, things started looking better. Not only did the cruise control start working, but our dash heater is working also! Not that we need it (now), but only cool air has come out of it for almost a year. Don't know why it started working now.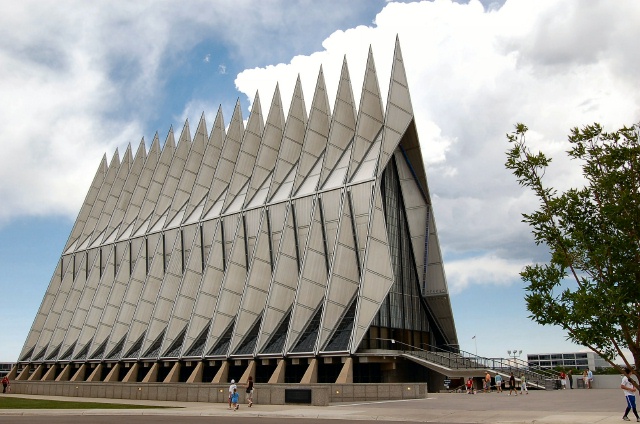 We arrived at the USAF Academy campground a couple days ago. It's a real nice park, with plenty of space, located in the woods. We toured the academy, as it's been over 15 years since we were last here. Being retired Air Force, it's a bit inspiring. For years, we had heard about "Royal Gorge" in Colorado. We made a day trip to the gorge today, and what a disappointment! Although we had an enjoyable day and picnic, and the gorge was pretty neat, the location was a large tourist trap! $21 to get in and walk on the bridge over the gorge. A little out of our budget.
6/22/06: Trinidad, CO: After leaving Gallup, we moved a bit further east to Albuquerque, NM to Kirtland AFB. It may start to seem that we're staying more at military campgrounds. Maybe, but we always stayed at them about 1/3 of the time. With the creation of our other website on military campgrounds, we're making an effort to visit as many of them as we can. We write a monthly "in-depth review" of the different military campgrounds for that web site.
Yesterday was a long drive for us. Over 200 miles. For the first time, we spent the night in a Walmart parking lot. We've never been against this practice, it's just not our first choice. But Colorado doesn't allow overnight parking in their rest stops, and we can't see paying $15+ for a commercial campground to just park for the night. We shopped in Walmart and had no problems all night. It was quiet and we even had a good view of the nearby hills. We counted 11 RV's parking here for the night. It's sure a lot cooler here than it was in Arizona! We even took the time to replace our air filter and fix the cruise control. Larry had read that the cruise control is somehow linked to the brake fluid level. Sure enough, our brake fluid was low. Filling that fixed the sporadic operating cruise control. Must be a safety switch of some type.
6/20/06: Gallup, NM: We're finally on the road again, after sitting still for 7 weeks. We hate being rushed and having a timetable, but we've committed to be in Keystone, SD, to start our summer workamper positions on July 1st. It's not too bad, this gives us 10 days to drive the 1300 miles. But we got off to a rough start. We left Apache Junction on Father's Day, after enjoying a great lunch with family. We only moved 40 miles to the other side of Phoenix to have some minor work done on the motor home. A couple weeks ago, I called to make an appointment and was told they were not busy, to just be there first thing in the morning and I could get in right away. We drove out there Sunday evening and convinced security to let us spend the night (with a free electric hookup). 7:00am on Monday morning, I got us checked in and asked if we could wait in the RV. 3 hours later, with no action on their part, I decided to see how much longer it would be. Regardless of what I was told on the phone, I was now being told they couldn't see us today, maybe tomorrow, and it might not be until Wednesday. Heck no! I complained, and we left without the work being done. Heading north, we later left the motor home in a dirt parking lot while we drove the Jeep to Prescott to say goodbye to Larry's dad. A couple hours later, we returned to discover our tire monitor was alarming of a flat tire. There was no place at this exit to repair flats, so we pumped the tire back up and drove 30 miles further to the small town of Verde Valley. By the time we drove this 30 miles, the tire had gone from 85# of air to 76# and the alarm was sounding again. Sure glad we had the tire pressure monitoring system, as we could had driven on the flat tire and not known it, until it blew. The flat tire was on the rear, dual wheels, which made it hard to visually detect as being very low on pressure. The alarm did it's job well. Luckily, we quickly found a tire shop that jumped on the repair job. They found a nail, which we must have picked up in the dirt parking lot. They only charged $20 for the repair. If you're ever in Verde Valley and need a tire repair, we strongly recommend the "Tire Pro" shop.
We got back on the road and reached our destination of Fort Tuthill, just south of Flagstaff. The USAF recreation area was full, so we moved into the county campground next door. When we went to check-in, they told us they were on alert to possibly be evacuated because of a nearby forest fire. Boy! This day sure wasn't being nice to us. We decided to take our chance and spend the night. Our luck finally changed when I had exactly $9 that they needed (since they don't provide change). We had a nice camp site in the pine trees, and were surprised that our satellite dish found a hole through the trees. And no, we didn't get evacuated during the night. After spending 7 weeks in the Phoenix 112+ HOT weather, the cool mountain air felt great. Larry even got cold at night, since it got down to the high 40's.
This morning, we turned east towards Albuquerque, NM. Since we're not in a great rush, we only drove about 170 miles and stopped in Gallup, NM. This is Route 66 country and we wanted to see some more of this famous route. We had seen other sections of Route 66 near Flagstaff, Winslow, and Holbrook, AZ, but have never stopped in Gallup. About 40 miles out of town, we checked our maps and discovered there was an Elks club here that allowed member RV parking. No problem, they had plenty of space. We drove around Gallup on Historic Route 66, but wasn't impressed. There was a bunch of old motels along the road still in operation, but it wasn't what we expected. Oh well, we needed to stop somewhere for the night.
6/15/06: Apache Junction, AZ: Being our last week here, Connie spent most of the week with Cindy working on Wedding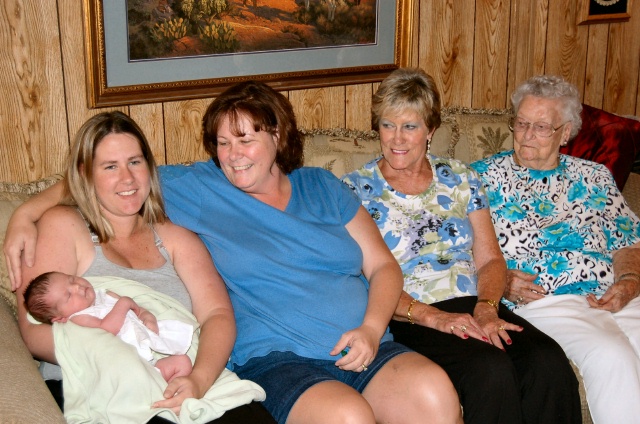 plans. She's a bit worried, since we won't be here for the next 4 months to insure everything gets done. But the main plans have been made. I'm sure it'll all work out. Earlier in the week, Connie's mom came out to see baby Kaylee and Connie's grandmother in nearby Casa Grande. Grandma Cappie is 91 years old and going strong. We took a 5 generation photo of the ladies with their eldest daughter.
We also had long time geocaching friends Cody and Cheryl Brown (CBx2) over for dinner. We enjoyed a fun evening of reminiscing and catching up on each others lives. A couple days later, we had dinner with more geocaching friends Steve and Judy Gross (Team Tierra Buena). They're contemplating and researching if the RV full time lifestyle is for them. We know this lifestyle isn't for everyone, but Connie and I are enjoying every minute of it. After spending this upcoming weekend with our daughters, and new granddaughter, we'll finally be moving out towards South Dakota.
6/10/06: Apache Junction, AZ: A few days ago, we received an email from fellow Boomers Steve & Pam Ritchie. They're volunteering at nearby Tonto National Forest! So we got together for lunch to catch up on each other's adventures. We last saw them in January 2005 at Quartzsite, AZ. Kaylee and mom are doing well. Connie's been enjoying helping out. But time is approaching fast where we need to depart again. I pressed the point this morning, which brought tears to Connie. She knows we need to get going for our summer workamping jobs near Mt. Rushmore, but it's hard to leave. I don't want to be pressed into driving all day, everyday, rushing to get there in time. We can arrive June 29th and we start work on July 1st. It's about 1 1300 mile drive. I don't like driving more than 200 miles a day, so we have about 6 days driving to get from Phoenix, AZ to Keystone, SD. We also want to have the motor home repaired, as the cruise control isn't working properly. Connie reluctantly agreed we'll leave here on June 18th. We'll move to west side of Phoenix, staying in the Ford parking lot that night. The Ford repair shop told us to arrive early and we don't need an appointment. This way, we avoid morning rush hour and we'll be there when they open. They have free hookups for RV's, so we hope we can find them on a day they're closed. Hopefully, it'll take less than a day to get repaired. We'll head out of Phoenix that day, June 19th. That gives us at least 10 days to get to SD.
6/2/06: Apache Junction, AZ: We're now the proud grandparents of Kaylee Rae Smith! Our first grandchild was born at 2:02am this morning. After Leslie's water broke, she went on a crash diet loosing 8½lbs in 20 hours. We think Kaylee's the perfect baby. Of course, you can expect to see a photo album on the web soon. Let's give it a few days to gather some more photos besides all of the delivery room photos. Here's a few photos of 14 hour old Kaylee with Grandma and Grandpa.
Over the past few days, we made a short trip to Prescott, AZ, to visit Larry's dad. He's doing very well and has been taking private pilot lessons. Larry also had a suspension "tune-up" done on our Jeep. New springs, shocks, and bushings has made the Jeep's suspension act like new again. You can read about the fixes done on our Jeep Suspension Modifications page.