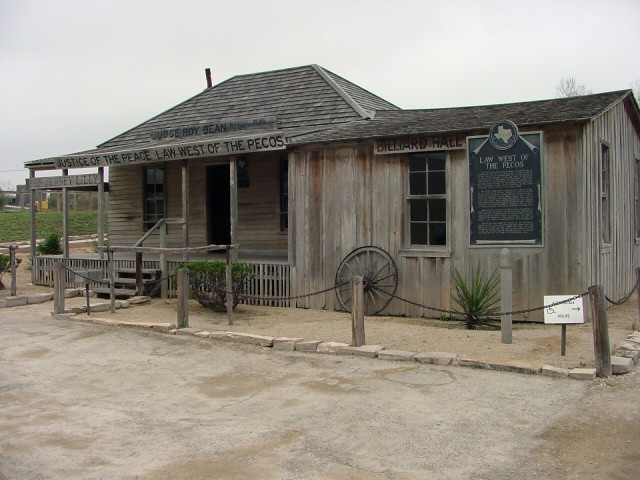 2/27: After spending the night at the Marfa roadside viewing spot, we drove on intending to stop at the Laughlin AFB campground at Amistad Lake near Del Rio, TX. We made a wrong turn and ended up in the Amistad Lake National Recreation Area. The small campground we were in was secluded, quiet, and overlooking the lake, although the weather was rainy and overcast. We decided to just spend the night there. We then moved on to San Antonio, staying at the Lackland AFB family campground. That first night, we had a SEVERE thunderstorm. Lightning must have hit someplace near us, as it sure sounded and felt like it. We spent a few days here to tour the Alamo and the Riverwalk, and to catch up on laundry. We treated ourselves to a wonderful dinner at "Steers and Beers".
Yesterday was a 280 mile drive through the rain to the Escapee's HQ, Rainbow's End, near Livingston, TX. The rain wasn't too bad, but the construction and drive through Houston was TERRIBLE! We'll spend the next week here establishing our legal domicile. We'll get the vehicles registered, new driver's license, full-timer's insurance, register to vote, and some other small stuff taken care of. We're looking forward to staying still for a week, but wished it would stop raining. You may recall that I've been having a persistent water leak coming from our front Air Conditioner. Lately, it's become a pretty steady leak. I couldn't find the source of the leak, even though I tried sealing different areas. Well, this morning I think I finally found the source! On top of this A/C unit, there's a small solar panel to trickle charge the batteries. This is standard with most new motorhomes. The wires from this small solar panel enter under this A/C through a small tube. It appears the leak is coming from this tube! I sealed the tube on top, so let's hope this water leak is finally resolved. Luckily, the water just leaked through the A/C vent inside and never went through the roof or ceiling paneling. No damage has been done, just a pain! Currently, it's stopped raining. But I'm sure we'll see more today.
2/22: Whenever possible, we're going to try and stay off the large Interstate Freeways. Instead, we'll travel the "red roads". These are the smaller roads that appear red on the maps. They'll allow us to see more of real America, strolling through the country side and the small towns. After we left Columbus, NM, we headed towards El Paso, TX, riding on a NM state highway. It was much more relaxing than driving the large Freeway. We did jump on the Freeway, but soon jumped off again and took a TX state highway to Marfa, TX. I had read about the "Marfa Mysterious Lights" and wanted to try our luck at viewing them. Since the late 1800's these mysterious lights have been sighted by numerous people. These strangely colored lights appear mainly at dusk. They're various colors, dance around, and sometimes combine or split apart. Scientists have conducted studies of the lights to discover their origin. They don't dispute their existence, but they just can't prove what causes them. There's many theories of swamp gas, radiation, headlight reflections, ghosts, and aliens. But nothing can be proved. We spent the night at the viewing site, but didn't see any strange lights. We weren't alone looking for the lights. There were 6 - 8 other people looking as well.
Since we're sort of rushing to get to the Escapee's RV club headquarters, we've been driving about 250 miles a day these past couple of days. We need to establish our legal "domicile" in Texas before the end of the month. This is when our vehicle registration in Arizona expires. While driving across southern Texas, we stumbled onto Langtry, TX. We didn't plan this, but it ended up being the town where Judge Roy Bean was Justice of the Peace in the late 1800's. There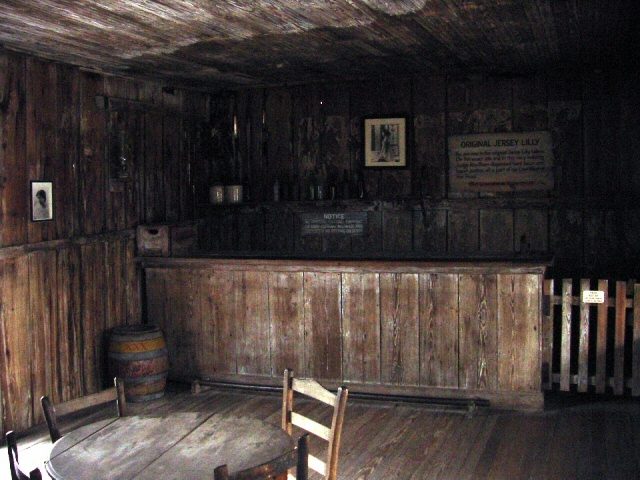 was a great visitor's center and information center on this unusual character. Judge Roy Bean was known as "The Hanging Judge", as he was "The Law West of the Pecos". This visitor center had his original saloon/court house, called "The Jersey Lilly", (actually his 2nd, as his first one burned down) and his personal home (which he called an 'Opera House'). A pretty interesting part of history to stumble across, and it was free!
2/19: After leaving Tucson, AZ, we continued moving East. We stopped at the Escapee park in Deming, NM. Until recently, the first night of dry-camping was free. Effective February 1st, they started to charge the regular fee of $2.50 per night. We were going to stay a couple nights, but Larry didn't sleep well as the trains ran nearby. After one night there, we moved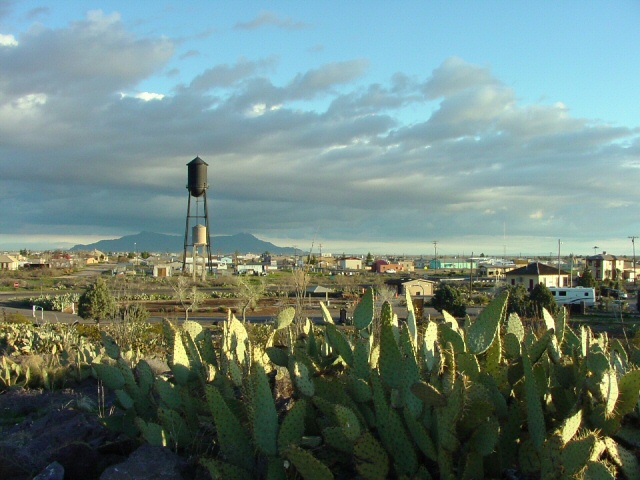 35 miles South to New Mexico's Pancho Villa State Park in Columbus, NM. This state park is built on the site of Camp Furlong. Columbus, NM, and Camp Furlong is the location where the continental United States was last invaded by a foreign army. In 1916, Pancho Villa raided the town with 800 revolutionary bandits. From Camp Furlong, General "Black Jack" Pershing, who would later command the Allied forces of World War I, pursued Pancho Villa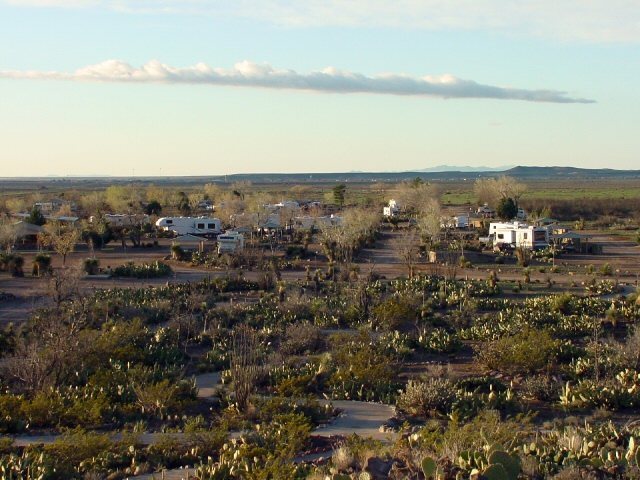 into Mexico. This 11 month pursuit led 10,000 American soldiers 400 miles into Mexico, but ended without the capture of Pancho Villa. Several buildings dating from the time of Villa's raid still stand in Columbus, and the U.S. Customs House, built in 1902, serves as the park's visitor center. A pretty park in the desert, located only 3 miles from Palomas, Mexico. We walked into Mexico to have lunch in Palomas, and of course, bought another liter of Kahlua.
2/17:< Since we're finally leaving Arizona and don't plan to be back for over a year, we stopped in Casa Grande, AZ, to visit with Connie's Grandma Cappie. For 90 years old, she's doing pretty good. We spent a couple days at the Escapee park, Rover's Roost, while there. What a deal. We dry camped for $2.64 for the two days. We were going to head to Hot Well Dunes in SE Arizona, but made a two day stop near Tucson. We're currently at Catalina State Park to visit with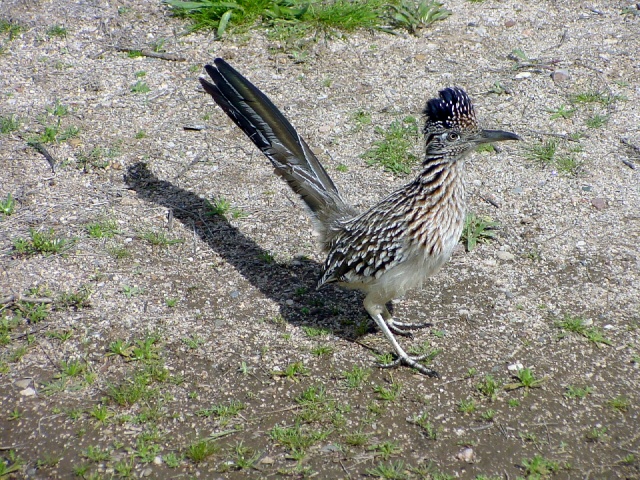 friends that Connie worked with over 12 years ago. We've kept in touch ever since. We also received an Email from fellow Boomers, Wilmer and Nancie Swerfeger, whom we haven't seen since last October. We'll meet them in a couple hours for lunch.
While staying at this state park, we were entertained by a group of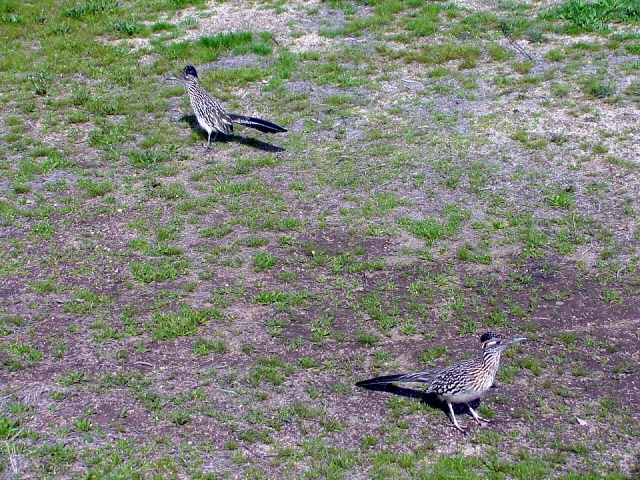 Roadrunners. We've always enjoyed these strange birds, but never saw more than one at a time. Here, we had over 4 of them begging for food at once. They sure seemed to enjoy the Ham and Cheese Connie provided them.
2/14: We enjoyed visiting with our daughters and son-in-law. It rained most of the time, pretty hard at times. This desert town isn't ideal for handling the large volume of rain water, so street flooding was fairly common. While in town, we also had lunch with Larry's old boss. He mentioned that the television show, "Extreme Makeover: Home Edition" was in town rebuilding a house for their show. We drove by and took a look in the rain. WOW! It looks like they built a small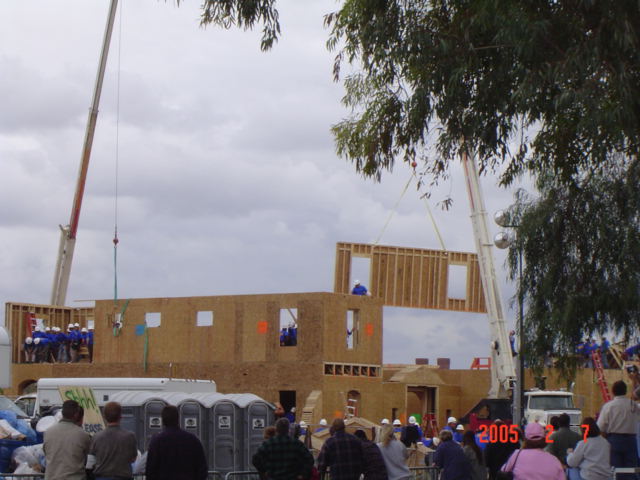 mansion.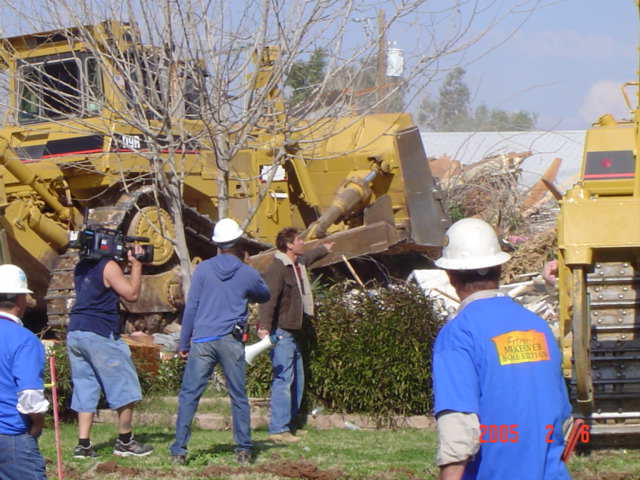 We don't know the complete story about the family, but heard this edition of the show will be aired around March 13th. After the concluded building and the show was over, we drove by the new house again. This time it wasn't raining. Here's a couple pictures of the old house being demolished and the new house being built.
2/9: Well, it seems all of scheduled fun rallies have come to an end. We want to start traveling East. Since we started full-timing, we've stayed here in the Southwest. It's time to break away and start exploring more of this wonderful nation. We're currently back in Apache Junction, AZ, to visit with our daughters again. After a few days here, we'll take the next two months to get to New York. We've accepted "workamping" positions there for May through September. "Workamper" is a term used to reflect seasonal workers at campgrounds and RV resorts. Usually, in exchange for 10 - 15 hours of work per week per person, the RV resort provides a full hookup RV site. Sometimes, other amenities and discounts are provided. Any hours worked beyond these 10 - 15 is usually paid at near minimum wage. Nobody will get rich doing this, but it provides an inexpensive way to stay someplace you desire. We've never spent any time on the East coast, so we're excited to be offered summer jobs at the Lake George Escape Camping Resort, located in the Adirondack mountains of New York state. Larry will work in reservations, while Connie will work in the main store. We'll actually get our RV site free for 4 months, in addition to the minimal wage. Include the savings of not moving for these 4 months and we hope to make enough income in these 4 months to greatly help us get through the other 8 months of the year without working. However, we are considering getting a short Christmas seasonal job in Florida. For much more information on workamping, check out www.workamper.com. We'll keep you informed on our first experience workamping in the upcoming months.
2/6: We've been boondocked outside of Salton City, CA, near Anza Borrego for the past few days. We're attending the first rally of the Escapee's Four Wheelers. Over the weekend, our daughter Leslie and her husband Andy came out to visit. He recently bought a used Jeep very well equipped for four-wheeling. We started to drive a tough 4WD trail, but discovered Andy's Jeep won't go into low four wheel drive. So we spent the weekend on easy trails hunting for geocaches. We had fun and enjoyed their visit. The rally has also been going very well, with trail rides each day for all skill levels. Most of our members are new to four-wheeling and are gaining confidence while honing their off-highway driving skills.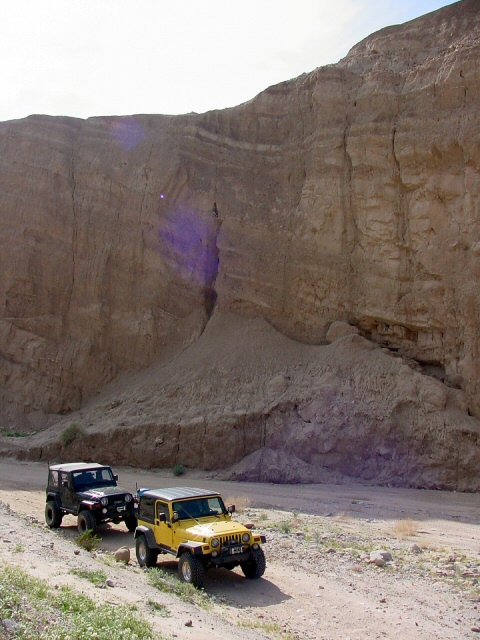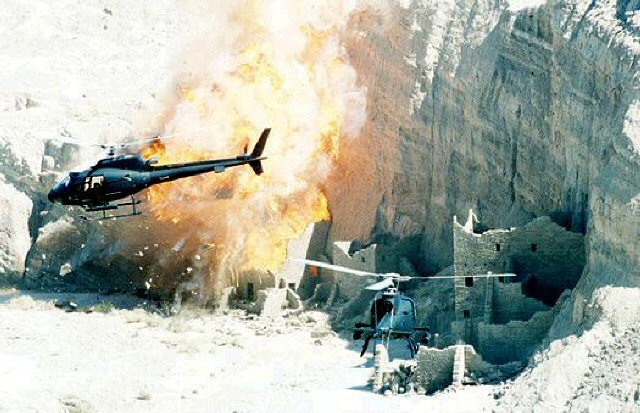 Not far from where we're parked, the "X-Files" television show filmed part of their 2001 season ending. There's now a geocache placed there with photos and information from the TV filming. One photo is of our Jeeps in front of the cliff that was blown up by black helicopters on X-Files.