The following information is for our original motorhome. We owned our National RV Dolphin motor home from
February 2002 - January 2010:
While our 2002 National RV Dolphin motor home was setup pretty well for fulltiming, we've made a few improvements over time. This lists what modifications we've made: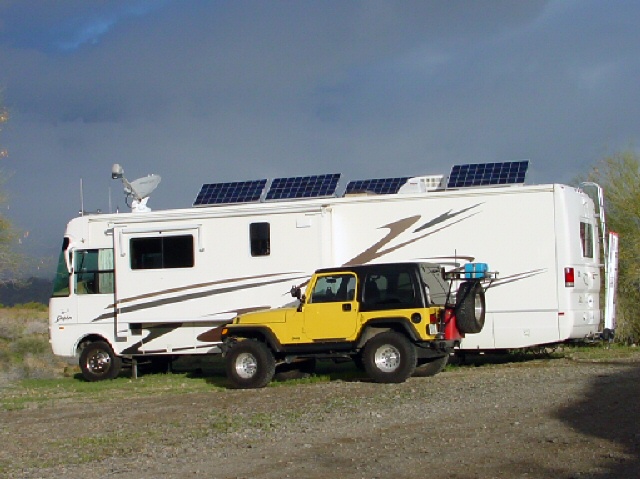 Satellite TV DVD - We upgraded our DirecTV satellite TV receiver to a DVR recorder. We got the standard R15 model provided by DirecTV. It's fun being able to record TV shows directly to hard drive, to pause shows, and playback recorded shows.


www.directv.com
DVDR/VCR -

Our old DVD/VCR combo was starting to sound terrible. Friends had a Samsung DVD recorder/VCR combination they didn't need. We simply installed it and can now record and watch shows on DVD or VHS tape, or even copy to each other.
Garmin Nuvi 750 GPS: We replaced our aging laptop we used as a GPS with this new Garmin Nuvi 750. While the screen is much smaller (4.3" wide) than the laptop, it's MUCH easier to read. It has a bright color touch screen, whish also makes it easier (and safer) to change while driving. It talks to us with driving directions (can be turned off), memory can be expanded with a SD memory chip (I'm using a 2GB chip), and the enclosed batteries are rechargeable when connected. It's easily expandable with many "Extras" and features. I've already created many "Custom Points of Interests" for Walmarts, Boondocking locations, Military Campgrounds, Corps of Engineer campgrounds, ELKS clubs, etc. THE GPS also functions as a MP3 player and can read electronic books. One of the nice features is the sound and voices form the GPS can be transmitted to the vehicles FM radio. This way, everything sounds better (especially the MP3's). We have it mounted in the motorhome using the suction cup mount, but stuck to a permanent plate on the dashboard. We also transport this GPS and mount to the Jeep when needed there.


www.garmin.com
Tire Pressure Monitoring System: I had always planned (wished) to get a tire monitoring system, but kept putting it off due to the cost (I've spent too much already). I've heard stories of RV'ers having a blow-out or flat tire on their towed vehicle (toad) that caused serious damage. When towing with an RV, you don't have good visibility of your toad and can't feel it behind you. It's common for the toad to have a problem or flat tire and not know it until another driver flags you down. This is dangerous, as the toad can catch on fire and/or cause a lot of damage. After recently leaving a four wheel drive rally, we came upon a friend stopped along the highway. Their Jeep (toad) had a flat tire while driving and ripped up their fender. This hit us too close to home, so we bought our Tire Pressure Monitoring System. We installed a Doran Pressure Pro 10-wheel system. I've seen this system on other people's RV's, and they all recommended it. It's easy to install by yourself. It monitors the tire pressure of all 6 wheels on the motorhome, and the 4 wheels of our Jeep. I can check the pressure on any wheel at any time from the driver's seat. If the tire pressure drops 12.5% on any wheel, a warning alarm sounds. If the pressure drops 25%, then the alarm becomes very persistent. This works as an early warning system of tire failure due to low tire pressure. The only faults with the Doran Pressure Pro system, are the sensors/transmitters screw on to the wheels and can easily be stolen. Also, the the sensors are sealed and the batteries can't be replaced. After 2 - 3 years, a new sensor will need to be purchased for each wheel as the batteries wear out. They're $50 each to replace. Simple locks are available to prevent theft, but they didn't fit my valve stems.


www.doranmfg.com
Coffee Press: Although not really a modification to the motorhome, I thought it worth mentioning. I wish we had read or heard about a "Coffee Press" earlier on. Our rental camper van in Australia came with a coffee press, and Connie fell in love with it for making coffee off the stove. She still prefers her drip coffee maker when we have electrical hookups. We originally purchased a Coleman camping coffee maker which worked on the stove. But it is bulky, takes awhile to make coffee, and requires a high setting on the stove. Anyone want to buy a used Coleman camping coffee maker?

To make coffee using the coffee press, we heat up water in the tea pot. Add the finely ground coffee into the press, then pour the hot water into it. After about 4 minutes, you press a handle that pushes the coffee grounds to the bottom of the press, through a fine screen (hence, the term 'press'). Connie searched to find a thermal insulated press, to help keep her precious coffee warm.
Windshield Screen: One item we've been meaning to get for the motorhome was a screen that covers the front windshield. These screens greatly reduce the amount of heat entering the motorhome, while still allowing us to see out. On a sunny day, LOTS of heat enters the large windshield. While parked in the desert at Quartzsite, an awning truck drove by. Larry flagged them down and a few days later we had a dark brown windshield screen installed. We really like it. It works exactly as advertised.

Solar Patio Lights: Lowe's Home Improvement stores sell small solar powered landscaping lights. We purchased a set of four and adapted them for our "patio". Normally, each light has a spike that enables them to be placed into the ground. We specifically purchased a set that the spike could be removed and the lights would sit flat on the ground. Be careful when shopping for these lights, as we've only found one set that was flat and stable enough to sit directly on the ground without their spike. The lights give our patio a little more "class", but are also functioning patio lights.
DataStorm Satellite System:

We admit it, Connie and I are Internet junkies. We originally planned to obtain and use a portable DirecWay 2-way satellite Internet dish mounted on a tripod. It's a good system at an affordable price, but we felt there were 2 downfalls with this system. 1) You had to spend time to manually set it up and aim the dish. Some users get lucky, and say they can do it in 10 - 15 minutes. Others say it takes them an hour. It isn't a system you would normally setup for only a 1 night stay, especially in a Walmart parking lot. 2) The tripod and .74 meter dish had to be stored somewhere.

Seeing how we wanted to be able to get on the Internet quickly, even if it was a lunch stop AND we didn't have any place to store the large dish, we decided it was worth the extra cost (although not cheap) to install the only authorized mobile satellite Internet system, made by MotoSat. This system still uses the DirecWay 2-way dish, but is mounted on the RV and is motorized to automatically seek and tune in to the proper satellite. When moving, it stores flat (11" high) against the roof. It's GREAT! It takes about 3 - 5 minutes to find the satellite and get it fine tuned. Then we have high speed Internet access anywhere we are in the USA or northern Mexico. Download speeds have been around 450Kb, but upload is only around 56Kb. I also hooked up my Wireless Access Point (WAP), so we can access the Internet from our laptop anywhere in the RV, or even outside if we're near the RV. To us, it was worth the extra cost for this convenience. This map shows our coverage on the satellite we're currently using.

Email us

if you want more info.

We also got DirecTV installed. A "LNB" is installed on the same dish as the Internet. They call this attachment a "Bird On Wire or BOW". When the Internet is automatically found, so is the television satellites.


www.motosat.com
Independent Electrical/Solar System:

Click here

to see details of the photovoltaic electrical charging system. We run all of our electrical appliances through an inverter, using the DC battery bank. Only on rare occasions, when we need to run the microwave or toaster oven for 30 minutes or more will we run the generator. We've found that we use about 25 - 30% of the battery capacity in a 24 hour period. This provides us enough power to run off batteries for a couple days in bad weather. When the sun is out, the battery bank is usually recharged by 2:00pm. When we do have bad weather for over 48 hours, we run the generator for a few hours to charge the batteries using the inverter/charger. The TriMetric battery monitor isn't required for operation, but it's been very valuable in educating us with what appliance uses how many amps. It's a little scary to see the microwave sucking up 160amps/hr. But we'll only run the microwave for less than 15 minutes without the generator. This system includes:
A "Prosine" 3000watt true sine-wave inverter/charger to run most 120 volt appliances from the house batteries.
Six 6-volt Lifeline AGM batteries, providing 660amps at 12 volts.
Four Kyocera 120watt solar panels creating the photovoltaic array, which can provide a peak 28.4amps of charging per hour
A Solar Boost 50 solar charge controller.
TriMetric TM2020 battery monitor.
Dashboard Cover: A few weeks ago, we visited with friends Bill and Diane. They were in the Phoenix area to trade up their 36' Dolphin gas mothorhome to a 40' Dutch Star diesel rig. Since they were trading in their Dolphin, they gave us their dashboard cover.  We had similar rigs and the cover was a perfect fit. I'm sure it'll help keep our dashboard from cracking in the severe Arizona summers. Thanks Bill and Diane!
Awning Lock: We've had our awning billow out while driving, and my Dad had his awning be completely torn off his rig while driving. Using instructions I found, I made a couple awning locks myself for under $15 each. Now, the awning won't open with the locks on, even if I try. Read all about the do-it-yourself awning lock in

this article.




6/6/04 Update:

After taking the rig on the road for the first time after installing this Awning Lock, the chain vibrated in the wind while traveling, banging against the rig. I tightened the chain bit more (shortened it) and used a strip of Velcro on each chain to hold it firmly against the awning arm. It's very secure now and there's no vibration while driving. Removing and adding the Awning Lock was a breeze while setup and take down of the awning.

"Stinky Slinky" Carrier: I had seen 4" tube carriers for the sewer hose (stinky slinky) on some motorhomes and wondered where I could put one. I looked underneath my rig, but couldn't find a clear place to attach one. The carriers are available from RV supply stores, or you could make one from plumbing parts. Full-timing friend Bill Joyce was back in town for a few days and showed me where he mounted his carrier. He also has a Dolphin motorhome, but on a Workhorse chassis. I have the Ford chassis. I couldn't use the same location, but could use a variation of it. I mounted the 6' carrier underneath the rig, directly behind the gas tank. It's actually mounted high enough that it's hidden by the generator cargo door. Now I can carry 20' of stinky slinky in this carrier, leaving more room in my 'plumbing' compartment.
Wet Bar & Spice Rack: We picked up a small wall mounted spice rack while in Quartzsite. I stained it and mounted it on the wall next to the microwave. We also were carrying our "happy hour" bottles in a cabinet above the sink. They seemed to take up quite a bit of space. Larry's dad helped him make a mini-bar that fit on the counter, behind the sink. This opened up a lot of space in the cabinet. They also included a place for paper towels.

400 watt Inverter: NO LONGER USED - Solar system with 3000 watt Inverter Installed (See above) - Our Dolphin RV didn't come with any inverter, and I plan to install a Prosine 2500 watt inverter, eventually. In the meantime, I have a 400 watt inverter that I attach to the batteries and use for the TV and DVD/Video player. For now, I have to run an extension cord to the inverter when I want to use it, but it works just fine. At least we can enjoy a movie in the boondocks without running the generator.
Etched Glass Window: At a outdoor market, we stumbled upon a "cling on" decal that looked like etched glass. Since Connie loves Hummingbirds, she wanted to have an etched glass picture for our entry door. The decal is removable, yet stays in place when applied. It's 11" x 16" and adds a nice look to the window of our door. For $10, what the heck!

Cell Phone Antenna: Not only do we use our cellular phones for emergencies and talking to family, we also use it to connect to the Internet. Under our plan, we have unlimited nights and weekends. Using Verizon's Net Express, I can get speeds up to 140Kbps. This is fairly quick for being out in the middle of boonies. To help with the quality and extend the range, I installed a Wilson Trucker/RV external cell phone antenna. This is a permanently mounted 18" antenna on the roof of the motorhome. I mounted it next to the factory AM/FM radio antenna, but 8" away.


12/25/03 Update:

We've used this antenna a few times now. It's lived up to all of our expectations. On one use, I wasn't able to get a Verizon signal, but >with the external antenna connected - I got a 65% signal strength. Another time, the strength went from 20% to 90% with the antenna. It was an easy install (hardest part was removing the overhead TV) and I haven't had any water leaks in the rook. 

www.wilsonelectronics.com
WAVE Catalytic Heater: I installed the OLYMPIAN WAVE 8 Catalytic heater. Unlike the small forced air heater that comes in motorhomes, this heater is over 95% efficient and doesn't use any electrical power. Saving battery juice is a high priority when boondocking. I installed the heater as a portable unit. I didn't have any wall space to permanently mount it, plus I have the flexibility of pointing it to either the front or the rear of the motorhome. I hard plumbed a LP gas connection below the stove which runs to a LP quick disconnect mounted near the floor. At first, I tried to find the parts myself, but came up empty. I purchased a kit from RV Solar which included all the necessary parts ($75). However, the kit included a 24" copper gas line. This was too short for my installation, but the local Home Dept made me a 36" line for $3. Installation wasn't difficult. The hardest part was reaching behind the drawers to my propane connection under the stove. I'll make a dust cover the Wave 8 and store it in the bedroom closet. When I wish to use the heater, I just plug into the quick disconnect, start the heater, and enjoy the warmth! If needed, or to help distribute the heat, I can still run the forced air heater for short times. 

www.uscatalytic.com
AutoFormer: Although we prefer to Boondock and not stay in RV parks, about 50% of the parks we have stayed in have had low electrical voltage. One was as low as 98 volts (120 volts is normal)! Although the electrical equipment will run on low voltage, it's real hard  on it. Motors, A/C compressors, and the Microwave will all burn out much faster on low voltage. The Hughes Autoformer is the highest recommended power booster for RV's. If incoming voltage drops below 118 volts, the autoformer will boost the voltage back to 118 volts. It will boost the voltage to 118 volts, with incoming as low as 95 volts. Also available in a 30-amp, I purchased the 50-amp model since the RV has 50-amp service.

Read this article

for further details on my semi-permanent installation.

Window Awnings: I installed 66" A&E window awnings over the large windows by the sofa and over the bed. This was a fairly easy do-it-yourself installation, saving me $110 (Camping World's install fees). These awnings will reduce the heat into the motorhome, yet still allow the windows and blinds to be open for ventilation.

www.dometicusa.com



Foam Fire Extinguisher: One of the seminars we attended at the Spring Escapee Escapade was on Fire Extinguishers. At first, I thought it was going to be a "sales" gimmick. However, the information made sense, and the demonstrations were very convincing. The small, 2 lb. fire extinguisher that comes with most RV's is rated "B/C". That's for electrical and liquids (grease). What about paper and wood, which is mostly what you find in the RV? Also, the dry chemical extinguisher is a mess to clean up and isn't very efficient. The answer is a larger foam extinguisher. We were highly impressed with the demonstrations and bought our Kiddie brand 5 lb. foam extinguisher from a local hardware store. It was the same as they were selling at the Rally, but slightly cheaper. It fit into the same location as the original extinguisher, but I also screwed some eyes into the wall and used velcro straps to secure the extinguisher. The original 2 lb. dry chemical extinguisher was moved to the bedroom.

TV/Radio FM Modulator: To distribute the television sound through the car radio-amplifier and the stereo speakers, I connected an AudioVox FM modulator. This $45 piece of electronics allows a sound input to go through the car radio on frequency 89.1FM. To accomplish this, I verified my JVC television had audio outputs on the rear. I ran a 20' long RCA cable from the TV down to the car radio. There, I installed the AudioVox FM modulator. The RCA stereo plugs plug into the modulator, the radio antenna also goes through the modulator, power is applied to the modulator, and there is a small on/off switch to install. The result is, by turning on the FM modulator and tuning the radio to 89.1 (or it can be configured for 88.7), I now hear the television sound throughout the coach, controlled by the car stereo.


Unified Tow-Brake: As required by some state laws, and for safety - I wanted a braking system for my Toad (the Jeep). I originally was looking at the "Brake Buddy", but didn't like that it wasn't a proportional braking system. It was either on or off. I learned about U.S. Gear's D-Celerator Unified Tow Brake. A friend had one installed and highly recommended it. I installed the braking system myself, saving about $300. It took about 9 hours to install, having never done one before. This braking system uses the power brakes of the towed vehicle by using it's own pump on the braking system. The command modules determine how much braking to apply, based on the deceleration of the motorhome. This provides for a complete power braking system proportional to how much is needed based on the motorhome. Sometimes it's just a little braking, sometimes it's a lot of braking. There's also a break-away, which will apply full power brakes on the Toad if it ever breaks away from the motorhome. So far, it's been great! I no longer fear heading down a steep hill, worried I'll smoke the brakes on the motorhome.

www.usgear.com



Roadmaster "Falcon 2" Tow Bar: Since I tore up my fixed "A" frame tow bar, I used this as an excuse to get a premium tow bar for the Jeep. The Flacon 2 folds up and remains on the motorhome, and quickly attaches to the Jeep. It self-adjusts, making it a one man hookup job. I opted for the removable brackets that attach to the Jeep. The brackets are easily removed for off-road adventures. I feel more secure using this towbar, and hooking up is a breeze.

www.roadmasterinc.com



Sewer Solution: NO LONGER USED - I'd read and heard good things about the Sewer Solution. In addition to the cleaner dumping of the waste tanks, I was looking for a way to dump at home. I wanted to be able to dump into my sewer clean-out that is located in my front yard at home. This would also allow me time to really work on getting the black tank clean using a sprayer down the toilet. The Sewer Solution uses water pressure to "force" waste down a 3/4" line (instead of the 3" stinky slinky). An adapter then connects the 3/4" waste line to a 3" or 2" dump. The closest I can park the motorhome to this sewer connection at home is 25'. With enough water pressure, the Sewer Solution is supposed to be able to "force" the waste to 30'. I purchased the optional 10' extension. I have a 10' hose on one end of the Sewer Solution with a female hose connector on the other end. The other end of the Sewer Solution has another 10' hose, with a male connector on it's end. For campground use, these two hoses connect together. At home, I have another ten foot section of 3/4" garden hose that I connect in between the two Sewer Solution ends, giving me the 30' I need to reach my home sewer connection. On a recent trip to Mexico, I tried to use the Sewer Solution. We had lots of solids that needed to be broken up for dumping. However, this RV site had extremely low water pressure. it wouldn't break up the solids or force them down the 3/4" hose. I ended up using the stinky slinky and pressure wand again. I've learned that although I prefer the Sewer Solution, I'll still need to carry the slinky hose. 

www.sewersolution.com



Decal Sheet: NO LONGER USED - Decals now attached to rear window. - Not much of a modification, but other RV'ers have been intrigued with what I did. We wanted a location to place various decals on our Motorhome without permanently attaching them. I attached the decals to a Plexiglas sheet, which is mounted to the rear ladder with Velcro wraps. I purchased a precut 12"x24" sheet of 1/4" thick Plexiglas. This size fits the width of my ladder. I then cut 1" horizontal slits near each corner. Using double-sided Velcro straps, I wrap the Velcro around a ladder rung, through the slit, and back around the rung, attaching to the Velcro to itself. Doing this to all four corners securely mounts the Plexiglas, yet allows for easy removal. The double-sided Velcro tape is commonly used as cable wraps. I use this same Velcro tape to secure hoses, extension cables, and for many other uses.
CB Radio: In addition to the FRS radios we use, a CB radio is helpful especially when traveling on the road. Monitoring channel 19 allows us to be warned of traffic problems and provides communication with the professional truckers making a living. I installed a Cobra 75-WX-ST Citizens Band radio inside of the dash. All of the functionality of this CB is in the microphone. I attached a non-ground plane antenna to the side of the Motorhome, next to driver's side mirror.

GPSR Installed:

NO LONGER USED as of January 9, 2008 - Using a Nuvi 750 GPS now. (See above) -

Of course I couldn't go traveling without using a GPS receiver. The Motorhome has a sized slide-out drawer in the dashboard between the driver and the passenger. A perfect size and location for a laptop computer. I decided to use my old Delorme TripMate GPS connected to the laptop. This would allow me to run either Delorme's Street Atlas Deluxe, Delorme's Map 'N Go, or even Delorme's Topo software, depending on my needs at the moment. The large 13" screen of the laptop would facilitate easier viewing of the active maps. I placed the Tripmate GPS receiver/antenna in the overhead console, next to the the television. GPS satellite signals are not blocked by the fiberglass roof. I also use the optional power cable for the TripMate that connects to the PS/2 port of the laptop to receive power.

Laptop:

NO LONGER USED as of January 9, 2008 - Using a Nuvi 750 GPS now. (See Above)-

Besides using the laptop for GPS mapping, the mapping software is great for planning routes and discovering new places. Other software we use is Trailer Life's campground directory on CD. Of course, there's the usual Email, office productivity, graphics, and game software. We also plan to purchase, or create CD-ROM's containing recipe's. The laptop can be mounted near the driver for on the road use. A lazy-susan is attached to a 11"x14.5" board that fits perfectly on the slide-out drawer next to the driver's seat. When mounted, this board rests on the drawer and holds it in the open position. The laptop is mounted to the lazy-susan using velcro. Using the lazy-susan, the laptop can be rotated while in use for either the driver's view or the passenger's view. More importantly, the passenger can make changes to the mapping software while in motion and let the driver still view the maps. It's much safer to let the driver pay full attention to driving. Currently, we use the laptop's 12-volt adapter plugged into an extension, which is plugged into the 12-volt power adapter located near the passenger seat. The extension goes under the dash and comes out into the drawer under the laptop. The power supply sits in the drawer, hidden by the mounting board.