Technology has made living and traveling in a recreational vehicle much more comfortable, and easier to manage personal affairs. It wasn't too long ago that banking was done via phone calls and postal mail. Phone calls were done using calling cards and pay phones. The primary method to access the Internet was to stop at library's along the road and use their computer systems, and you needed to carry a ton of paper maps to navigate new territory. But technology has made it easier to stay in touch with friends and loved ones, handle your financial and banking needs remotely, access the Internet from anywhere, and pinpoint your exact location on earth to within a few feet. Coming from an Information Systems background, Larry has always been an early adapter of technology (when affordable). The technology is here now, and at affordable prices. The following is how we're using technology to make our traveling life easier.
Banking: Many years ago, we got caught in the credit card trap. At one time, we probably had over 6 different credit cards and owed over $20,000 on these cards. After we got out of that trap, we got rid of all the credit cards, except two cards that don't have an annual fee. We only use one of these cards, and ONLY for major purchases. We then pay the bill off monthly and never pay interest. But we do build up bonus points, which we mainly use for hotels when we take a vacation. We do use our checking debit card routinely. These cards are just like a credit card, except the charge is deducted from our checking account. It's accepted worldwide and there's no interest or annual fees. Since we have Larry's small pension automatically deposited into the checking account, none of our banking accounts have a fee. Using direct deposit precludes the problem of us getting a check and having to find a bank to deposit it in, or mailing it to the bank. When possible, we elect to use direct deposit for any job. We also use PayPal, which is an online payment system, to make and receive various payments. When we need cash, we'll get cash back when making a grocery or department store purchase. Since our bank is predominately on the west coast, using another bank's ATM would normally incur an extra fee. Getting cash back at the time of a purchase is free. Usually, there's a $40 to $100 limit on getting cash back. But that's enough to have some lunch money in our pocket.
We specifically use a bank that provides free online banking and free online bill pay. We elected to get our monthly statement only on the Internet. This saves us postage and the delay of getting postal mail. We can check our account activity anytime and reconcile our accounts weekly, if we want. Online bill pay allows us to pay our bills through the Internet. We've setup some bills to automatically be paid, while others are on demand. This is simply a transfer of money from our account to the payee. Again, this saves us time and postage. We can also check the balances and statements of our credit cards and cell phone online, pay these bills online, and we have elected not to get paper statements in the mail from them. We use the software program, Quicken, to keep track of all of our finances. Almost every dollar is accounted for, which is revealing to see where our money goes each month. Quicken easily ties into our online banking, so it's a simple matter to reconcile our accounts.
Telephone: Cellular phones have come a long way in recent years. Prices are down, and coverage is up. We use Verizon for our cell phone service. During our research, they had the best coverage, fair prices, and had a way of connecting the cell phone to the computer for Internet access. We've been very happy with our service and have never contemplated changing. To help in getting a
stronger signal in fringe areas, we installed a Wilson trucker's cell phone antenna on top of our motorhome. Using this antenna usually boosts our signal by 2 bars. We each have our own cell phone. Our Verizon plan gives us 800 minutes of use per month (more than we need), but also unlimited free minutes between 9:00pm and 7:00am, unlimited free minutes all weekend, and unlimited free minutes when calling another Verizon customer. Between all of the free minutes, we hardly use any of our monthly minutes. The plan we have also provides nation wide coverage with no roaming charges (with a few exceptions). When we got the phones a few years ago, this was Verizon's "America's Choice" plan. There may be better plans available now, and we may look into it soon. But a couple years ago, Larry heard of a loophole that allowed customers to request, and get, high-speed Internet for no extra cost, just the minutes used. Again, this is unlimited on weekends. The cell phone connects to the computer and gives us dial-up Internet access. Verizon provides all customers with free Internet access at 14.4Kbps, which is a tad slow. Their high-speed Net Express normally costs extra. If we were to change plans, we might loose this free extra service that we fought for. However, we only use the cell phone for Internet access as a backup to the Satellite system.
Internet: We're Internet junkies and wanted high-speed Internet access that we could get from anywhere we went. Until just a few years ago, this was unheard of. But today's mobile satellite systems give us this capability. We use the Internet for Email, finances, research, and this web site.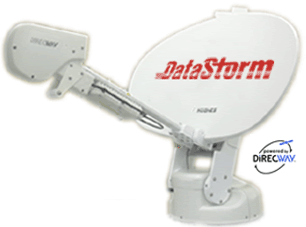 Our DataStorm advanced mobile satellite system, manufactured by MotoSAT, is a 2-way Internet system. Once we park, we simply press the "Search" button and the dish raises itself, finds the proper satellite, and adjusts for optimal performance. Within a few minutes, we have full high-speed Internet access from anywhere in North America, as long as we have a clear view of the Southern sky. We have this system connected to a Linksys wireless router/switch, which allows us to access the Internet wirelessly from up to a couple hundred feet from our motorhome. It's a great feeling to be high in the forest, sitting at a picnic table and be cruising the Internet. You can read more about our DataStorm system on our RV modifications page.
Computers: Computers have gotten extremely powerful in a small box. We each have our own laptop computer. This allows us to check our own Email and research the web independently. One of the laptop's is also used for GPS navigation while driving. We have a small ink-jet printer/copier/scanner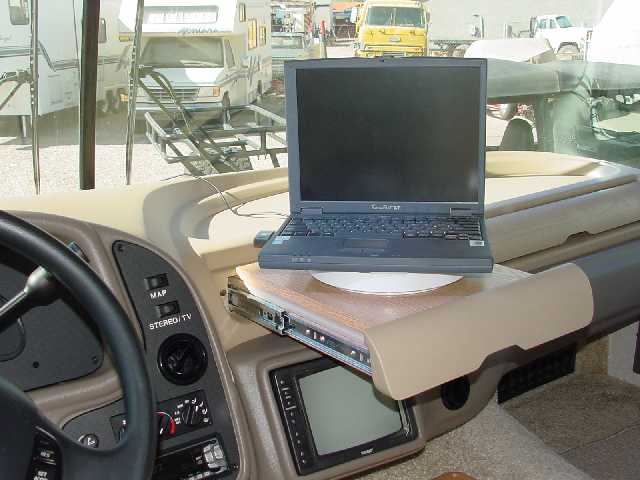 that can be used by either computer. We also have a stand-alone DVD recorder that can be connected to either of the computers. Besides accessing the Internet, we use the computers primarily for keeping our finances, digital photography, GPS navigation, record keeping, and maintaining this web site. We've also been known to play a few games on the computers, but not very often.
Photography: Digital photography has also made life easier, and more affordable. We can now take hundreds (thousands) of pictures for free! Beyond the initial cost of the digital camera, there was no additional cost. We keep the photos on CD or DVD discs and never have had them professionally printed. If needed, we can print our own professionally looking photos when using the good photo paper in our ink-jet printer. We started with a Sony Mavica MV-1000 digital camera a six years ago. This camera records directly to a 3.5" recordable CD. It's only a 2.1 mega pixel and is slow. But it does have a 20x zoom. It's large and bulky, which isn't convenient to carry. We still use this camera on short walks, or carrying in the Jeep. When we recently started having problems with the CD recording of this camera, we took the side of caution and purchased a second digital camera. This is a small Panasonic DMC-LC70. A cute little 4 mega pixel camera with a 9x zoom. We carry it everywhere, since it easily fits into a coat pocket. It records onto a 256MB SD memory chip, which can also be used directly in our newest laptop computer. It does a great job, with it's weak point being the low zoom capability. Since almost all of our digital photography is viewed on the computer, these cameras are working great for us. We use JASC's Paint Shop Photo Album to organize the photos, and JASC's Paint Shop Pro to occasionally enhance the photos.
GPS: Global Positioning Satellite (GPS) receivers are incredible devices! We got hooked on GPS many years and started Geocaching. Today, we primarily use them for navigation. We now have two GPS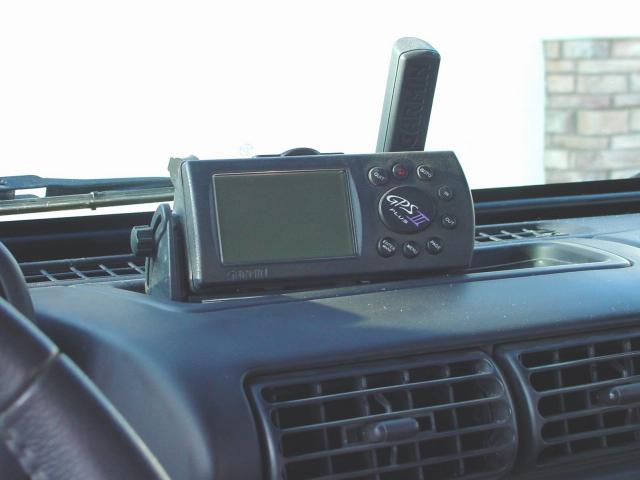 receivers. We carry a Garmin GPS V in the Jeep. This small GPS can also be carried and used for hiking and geocaching. But when mounted in the Jeep, it's also a powerful navigation aid. We can enter in an address, and it will show us how to get there. Or ask it to find the nearest gas station, or one of many other points of interest, and it will show us how to get there. Since we're always driving in new towns, this is very helpful to us. When we park the motorhome, we mark where we are in the GPS. After a day of exploring, the GPS will show us the best way to get back home. The only downfall on this small GPS is it's low memory storage. I have to load maps from the computer into it when we move into a new area. It will only keep enough detailed road maps and points of interest information for a few hundred square miles. This isn't a big problem, as long as I remember to load the maps into it.
Navigation in the motorhome is done on a laptop. We use an older, Delorme Earthmate GPS receiver connected to a laptop. The GPS receiver is permanently mounted in the ceiling. Using Delorme's Street Atlas program, we can plot our route, have a live map feed, and plan where we're going. The large 13" laptop screen makes it easy to see the map at a quick glance.