In stock form, the Jeep Wrangler sits fairly low to the ground. Body armor was one of my first priorities. Here's the armor I've added so far:
The most important FIRST modification needed for a stock Wrangler in Arizona. The simplest of trails still have rocks and boulders that are attracted to the low-hanging gas tank. This skid plate had some good scrapes on it after the first trail I drove with Wyle E. A simple install. I used a floor jack to lift the heavy plate into position as I attached the front bolts. I recruited the assistance of a daughter to help guide it into position and hold the plate steady as I bolted it on.
It's performed great. Later, I did have to trim some of the plate to make room for the Bulletproof rear bumper's tow hitch. 
www.tomken.com
Sun Performance Rocker Guard - This rocker guard has received good reviews from other Jeepers. I didn't want any rocker guard that stuck out, or reduced ground clearance. The install was an easy bolt-on. Each guard is fairly heavy, and I was doing the install by myself. So again, I used a floor jack to lift and hold the guard in place while I marked the holes to drill. Make sure you get the guard as high and tight as possible. Others report that this guard will support the Jeep being lifted by the HighLift jack.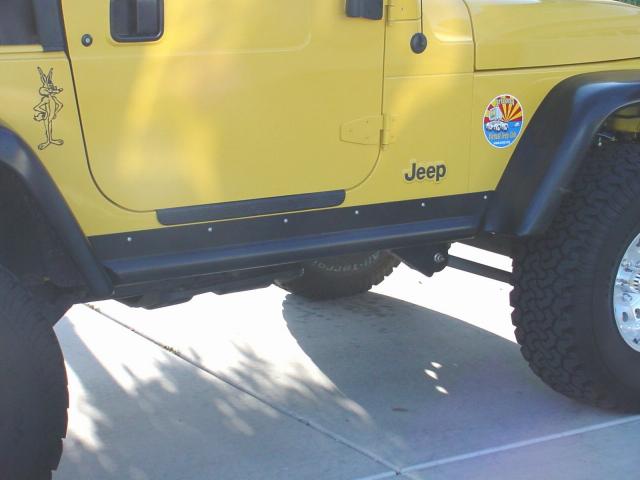 I haven't needed to do this yet, but I don't doubt it can handle the load. Even though the guard bolts through the sides and bottom of the Jeep body, the weight of the Jeep is distributed along the entire length of the guard. The guard has a large round lip along the bottom, which greatly helps to slide off obstacles and increases the strength of the guard (no 90 degree angles). The one aspect I don't like about these guards, which I didn't consider before purchasing, is that the guard doesn't protect the entire length of the rocker. There's a few inches unprotected at the very front and at the very end of the rocker. This is to allow room for the fender flares to be flush against the body.
www.sunperformance.com
SteelHorse Threshold Protectors - Having this new, shiny, YELLOW Jeep made the black marks left from shoes on the door thresholds stand out. I found other threshold protectors, but they all looked thin and cheap. I avoid many products from SteelHorse. I (and many others) consider most of their products cheaply made. However, these threshold protectors looked fairly strong and well built (compared to the others I looked at). I figured, even if these failed or rusted easily, they didn't cost too much. So far, they do their job real well.
Another vulnerable area on the stock TJ are the bumpers. Especially the plastic end caps. I removed the front end caps the same day Wyle E came home. The rear end caps were mangled after the first three trail rides. There's plenty of good after market bumpers available for the TJ, and there are a few good fabricators close by as well. The local fabricators make some very good looking items, and I seriously considered going that route. Bulletproof is probably the most expensive bumpers out there, but they have a free replacement guarantee for life if damaged or broken! Bumpers take a serious beating offroad, and I've seen plenty of mangled bumpers. Everyone I knew or read about that uses BulletProof highly recommended them and didn't regret the extra cost.
I decided to go full blown. I ordered the FF-7 front bumper, which included a winch protection hoop, 2 light tabs, and two 11,000lb shackle mounts with D-rings . I added 3 NPT air outlets in the bumper, allowing me to also use the bumper as an air tank and the winch mounting kit. For the rear, I ordered the FF-1R, which only includes the 2" receiver hitch. I added two 11,000lb shackle mounts with D-rings and the cross member reinforcement. I also ordered the bumper mounted swing out carrier with dual gas can mounts, Highlift jack mount, stubby and long spare tire mounts options, crossmember reinforcements, and the Ricochet Gear Rack.

The front bumper and winch mount were an easy install. The rear bumper was another story. On the TJ, I needed to drill 4 1/2" holes in the rear crossmember. These would be the same holes on a YJ, if the TJ used bumperettes. The problem was that the BulletProof bumper has extremely close tolerances. Even though I tried real hard to get the holes in the exact spots required, I was off by a slight fraction. To get all 8 (4 existing and 4 new) holes to all line up, I ended up enlarging the 4 news holes from 1/2" to 9/16". This extra space gave me enough room to align all 8 holes. I placed larger washers on the rear, hoping to compensate for the larger holes. Another installation problem was getting to 2 new holes on the rear driver's side of the crossmember. The gas tank prevented easy access to the holes. I used long extensions on my ratchet with a flexible attachment (u-joint), but I still couldn't the bolts started. I ended up dropping the gas tank a couple inches to give me the needed access space. Even though the install was a pain in the butt, I appreciated how well the bumper was made that it required these close tolerances.

I also had a problem with the Tomken gas tank skid plate being in the way of the 2" receive hitch of the new bumper. I removed the skid plate and cut out a 3" 'notch' in the spot where the receiver hitch needed to go.  Since this notch is high up on the skid plate, I don't think it will affect the structural integrity of the skid plate. Unlike what I've read in some other installation articles on the Bulletproof bumper and swing away, mine were shipped as separate pieces. They were not pre-attached to each other. Installation of the swing away was real simple. However, the HighLift jack mount didn't align up with my jack. Holes in the long part of the jack go over 2 bolts on the mount (same as all other HighLift mounts) and are secured with wing nuts. One of these bolts on the mount is slightly adjustable. Mine didn't adjust enough, so I couldn't get the 2 bolts to fit through 2 holes on the jack. A little reaming out of the bolt hole allowed it to be adjusted enough to fit my jack. This problem may not be normal, as my HighLift jack is over 20 years old. I've noticed the newer Highlift's are slightly different than mine.
I get numerous compliments on these bumpers. They are built with the highest quality. The swing away and gas can mounts are adjustable, to insure all is vibration free. The only vibration I hear or feel, is from the Highlift jack - not from the swing away or mount. I've used hook and loop to secure the jack and handle together, but there's always something there that rattles offroad.

Due to these being top quality equipment, there's a high demand for them. I had to wait 6 - 8 weeks for my bumpers to start arriving. Be prepared for a ton of packing material! I highly recommend BulletProof bumpers, if you're willing to wait and endure the high cost.
www.bulletproofmfg.com
 
| | | |
| --- | --- | --- |
| | | |
| | Rear Bumper & Ricochet Rack | Rear Bumper & Swing-away |
 

Front "Sports" Cage - For added safety in case of a slow roll-over, I installed a front cage. This is a bolt-on cage from Off-Road Fab, located here in Phoenix. What I liked about this design was that it doesn't interfere with leg room or block the front dash speakers. The front of the cage attaches to the "crush zone" on each side of the dash where the doors attach. Off-Road Fab has a patent pending on this design. I also installed their optional floor anchoring kit. This anchors the cage to the floor and also reinforces the side mounting points. Installation was fairly easy, taking me about 3 hours.

After I purchased this cage, I read about a similar cage that also uses the same mounting type. This cage is by Rock Hard 4x4 Parts. They also have reinforcement braces for the rear portion of the factory roll bar. However, the Rock Hard 4x4 Parts cage is also more expensive that O-R Fabs cage. I'd still like to see this new cage.
www.o-rfab.com
 
| | |
| --- | --- |
| | |
| Front Sports Cage | Unique front mounting |